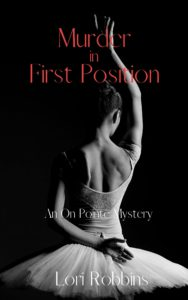 Level Best Designs
Inspired by her successful mystery novel debut, Lesson Plan for Murder, English teacher Lori Robbins continued in the murder-mystery genre for her second novel. This time, she brought to life the setting of the world of ballet. On Nov. 24, 2020, Level Best Books released her sophomore novel, Murder in First Position. Robbins has confirmed that this is the first installation in a series of dance-related mysteries. 
The novel provides a glimpse into the life of a ballerina, which Robbins knows well from her own experiences in the dance world. "I am a former dancer, so I spent many years dancing in ballet companies," Robbins said. "It seemed like a very inherently dramatic setting for a murder mystery." 
The story focuses on Leah Siderova, a ballerina facing the possible end of her career. "For dancers, life can be very fragile; it is a very short career," Robbins said. The stakes are certainly high when Siderova experiences a downfall in her competitive career while also being accused of murder.
Although the plot of this book focuses on ballet, the book has universal themes and appeal. Even those unfamiliar with dance can enjoy reading this book. "[The book] deals with someone who is at a critical point in her life, and that was the inspiration for the book," Robbins said. 
After her first book, Lesson Plan for Murder, Robbins continued to explore the murder-mystery genre in her second novel. Robbins said, "I like to read mysteries, and I think a lot of people like to read mysteries because the world is a crazy place, and I think mysteries provide a sense of justice and a sense of closure, at the end, there is usually a very satisfying ending."
As mystery novels need closure, many mystery writers carefully plot their stories and clues out before writing and stick to them exactly when writing their books. Robbins, too, outlined her plots before writing but admitted that she didn't always stick to them, saying, "I had everything planned out; however, when I was about halfway through the book, I realized that I had chosen the wrong murderer and that the real murderer was so clever that this person fooled even me, and I had to go back and rewrite it."
Robbins explained that she wishes to continue writing in the murder mystery genre, saying, "I love puzzles, and the thought of writing a book where a puzzle was part of the plot is very attractive to me." 
She also confirmed that she has more in store following Murder in First Position. Robbins said, "I signed a three-book deal so there will be at least two more coming out over the next two years, so it could be a couple more years with Leah."
Robbins, along with the rest of The Sirens of Suspense, will be at the Kinnelon Library the evening of Feb. 18.
The Sirens of Suspense are three female mystery authors, all on the board of the New York Chapter of Sisters In Crime. They provide free book readings, writing workshops, and other related programs that they present at libraries, book clubs, women's groups, and community centers. The programs are geared toward people who love reading and/or might want to try writing.
Along with Robbins, The Sirens of Suspense includes D.M. Barr, an award-winning author of stand-alone psychological thrillers, the most recent being Saving Grace: A Psychological Thriller; and Cathi Stoler, award-winning author of the Murder on the Rocks mystery series (Bar None, Last Call).
The Sirens of Suspense donate a portion of the proceeds from any book sales connected to their events, and Robbins is donating a portion of the proceeds from her book to the KEA Scholarship Fund.