Which park is better at Mountain Creek?
Mountain Creek, a Northern Jersey hot spot for skiing and snowboarding, is home to both North and South Park. But the question is: Which park is better?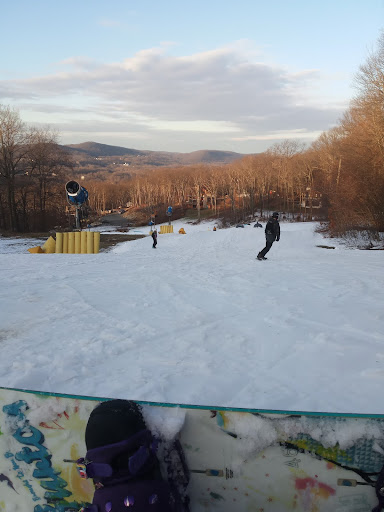 Adviser's Note: The views, thoughts, and opinions expressed in this opinion article belong solely to the author and do not reflect the view of The Colt Chronicle Staff, Kinnelon High School, or its students and staff members.
About Mountain Creek
Mountain Creek is a snowboarding/skiing park with four peaks. North Peak, South Peak, Granite Peak, and Bear Peak. North Peak and Granite Peak are in north park and South Peak and Granite Peak are in South Park. All of these peaks have plenty of trails and have their own individual ups and downs but this mountain overall is good for skiers and boarders of all skill types. Mountain Creek is close to Kinnelon, not too expensive and has an amazing variety of trails. The people and workers there are nice and you will always enjoy yourself with friends. If you are looking for a nearby place to ski or snowboard, Mountain Creek is the place to be.
About North Park
North park contains North and Granite peaks. North park also contains Mountain Creek's only green hill and practice area. For those who do not know, a green hill is part of the ranking system to show how difficult a hill would be. Green being the lowest and the highest being a triple black diamond. During an interview, Kinnelon High School (KHS) student Andrew Stickley said, "North Park is definitely more for beginners while south park is for more experienced snowboarders." Additionally, KHS student Cooper Kaplan in an interview said, "North Park is more skier friendly with better trails and more terrain that is skier friendly while South Park is more of a terrain park where snowboarders can do tricks." With the green hill and practice area being at north park it does make sense that more beginners would be at North park making it harder for snowboarders. After snowboarding there myself I noticed these problems for snowboarders but as I see skiers weave their way through people sitting down I can definitely see north park being more skier friendly.
About South Park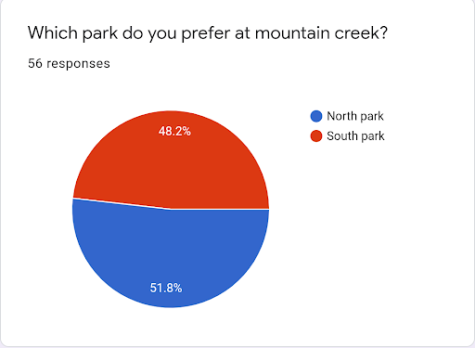 South Park contains South Peak and Bear Peak and is home to many more rails and jumps than North Park. There are no green trails in south park and few intermediate blue trails in South Park. South park is farther from the lodge (the hotel rooms at mountain creek) so it makes sense that there would be less people there and the people there are definitely more experienced if they feel confident enough to go on these hills. During an interview, Henry Evans said, "South Park is definitely a better park because of how the people there all know what they're doing and there are far fewer beginners there." Also during an interview Sam Ankner said, "I like South Park better because of the better rails and jumps." South park seems to be a better place for people who are experienced. From my experience I noticed people in South Park definitely snowboard more often. 
Which park is better?
Which park is better?A simple question but a difficult answer. Each park has its own benefits and downsides. After reviewing my interviews and reflecting on past experiences at these parks, I have concluded that on a day with few people in line and few people at the mountain, north park is better—assuming you aren't looking to do tricks. However, on a normal day I would choose South Park because of shorter lines, more professional snowboarders/skiers, and better jumps.
View Comments (2)