The Recycling Industry Changes
The concept of recycling has been on the rise and has become a vital part of conserving the environment.
April 13, 2021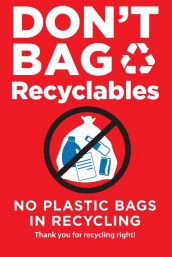 Reduce. Reuse. Recycle. Three huge words that appear everywhere. New Jersey has come a long way since Governor Tom Kean's 1987 mandatory-recycling law, and now promotes recycling with the bins stationed near the original dumpsters. The pattern of progress and commitment to the environment has risen as improved recycling rules and regulations are implemented in New Jersey. 
The growing industry evolves as society changes. "It is an ever-changing industry that keeps getting smarter and smarter… they are starting to use robots now to pick material off the picking lines," said Association of New Jersey Recyclers' executive director, Mari Kruzan."The original law said there are three materials we needed to collect: fiber, glass, and aluminum, but … As the industry grew, they found better ways and more ways to take care of different materials so people added them if there was a market for them."
Similarly, there is also a stronger commitment to helping the environment from the government. "It is most important for everyone to understand that recycling is the law," said District Recycling Coordinator Liz Sweedy. "Everyone in the State of New Jersey must recycle."  
These developments lead to different circumstances for the recycling industries."In 1987, New Jersey was the only one in the country that mandated that people collect recyclables and the rest of the states were voluntary," said Kruzan."Now, most of the states do it, so we have a lot more material coming in so marketing materials is much more important and difficult because there is more supply."  
Contamination has always been one of the largest problems for the recycling industry as people put the wrong materials into recycling bins. To avoid contamination, the County Solid Waste Management Plan has a designated list of recyclables that must be recycled by everyone. 
In addition to the list, there are also a set of guidelines that should be followed. "All recyclables must be loose, not in plastic bags, clean and dry in reusable containers that have handles and lids to prevent litter," said Sweedy.  
When guidelines and procedures are not followed, there are different approaches taken to enforce them. According to Ron Lottermann, Fair Lawn's recycling coordinator, more efforts at reducing this problem include having people flagged for putting contaminated items and banned plastics into the bins. 
Apart from the measures taken by Lottermann, there are many other new measures that the state is implementing to combat this problem, as well," "The MCMUA also conducts inspections of trash at both transfer stations to see if mandated recyclables are present," said Sweedy. "If so, the transporter hauler is notified and the MCMUA does follow up which can result in fines."
Similarly, procedures less targeted at specific individuals are also implemented. "We reduce this contamination are through things such as advertising, big signs, better education, enforcement action that says that we won't pick it up if its got the wrong thing in it so you have to clean it out and put it back," said Kruzan."We use what we call 'Oops Tags' that locate which bins need to be cleared out before being picked up." 
It is important to take action and help the environment by recycling the right way. "Recycling is important because it protects the planet," said Junior Erica Braden. "If we don't recycle then the Earth will become a big land dump and it would be very hard to live here."
"
Recycling prevents pollution and lets us use items to their fullest extent"
— Brianna Alteri
Urgent Note from Liz Sweedy
Lithium-Ion batteries are everywhere- from powering personal electronic devices to running powerful automotive engines. The use of these batteries is on the rise and so are dangerous facility fires caused by improper disposal of these batteries. A few simple steps can prevent these fires. When discarding used lithium Ion batteries, do not throw them in the trash or recycling bin. Bring them to the MCMUA hazardous waste facility. Please make an appointment.