'They Both Die At The End' Book Review
"And you, my father, there on the sad height, curse, bless, me now with your fierce tears, I pray. Do not go gentle into that good night. Rage, rage, against the dying of the light."
~Dylan Thomas
Life. Death. As a duality of nature, life constitutes our existence, while death defines it. But as omnipresent as they are in our lives, few ponder on what it means to truly live, and even fewer take their musings to heart. In the novel They Both Die At The End, two unfortunate teens  come to terms with their own mortality, and discover what it means to live in a world they will no longer be with.
They Both Die At The End is a young-adult novel about two teenage boys: Mateo Torrez and Rufus Emeterio. The two teens have one day to live, and the story revolves around their day together in modern-day New York City. The book is written by Adam Silvera, published by HarperCollins, and costs $18. The author himself was born and raised near the Bronx, which lends his inspiration for the setting of the story, combined with his Puerto Rican descent (which is embodied in Mateo). Although stories that involve their characters having a set amount of time to live for are nothing new (and with those, stories about cheating death), Silvera manages to incorporate LGBTQ+ themes while being relatable and realistic.
In Goodreads user Ashley Elliot's opinion, "It's a gorgeously written book… with excellent gay and bi representation." The tension from the characters prophecy of death drives the plot forwards, and progresses the themes in the book, significantly the theme of seizing life as it comes. Silvera's writing style also contributes in the same way, as he tells the story in periods of time with multiple minor protagonists that have their own plots adjacent to the main story. I felt that these mini-plots helped to tie the book together and progress the themes present. However, there were creative choices I felt unsure of. Silvera sometimes tries to "force" his agenda on the characters.
In Goodreads user Emily May's opinion, "Where Silvera's other two books had me gripped with emotion, huge chunks of this book were very slow. I also expected it to be deeper than it was. It was kind of a mediocre take on an exhausted message – the old 'carpe diem…"
But despite its problems, the book was still enjoyable. It combines drama and even seemingly slice-of-life elements to create a compelling story.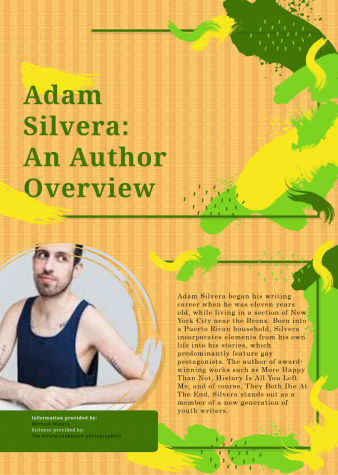 Pros of the Book:
The protagonists are relatable, and have realistic emotions.
The book draws the reader in and keeps the tension up over the end.
The book showcases gay themes, but is written in a way so that all audiences can enjoy it.
The Cons of the Book:
Some interactions between the characters seem forced.
The book itself was written for a younger, liberal audience. It may not agree with the values of some readers.
Certain scenes involving Rufus/Mateo dragged the story down and slowed its speed.
They Both Die At The End is, ironically, a story about life. It is a story about celebrating what time everyone has left, and living a life that they can be happy with. Sometimes, knowledge is power, Other times, it is a curse. But the knowledge of death is what you make of it, or more specifically, what you make with the rest of your life. Emma Giordano, one of Silvera's author friends, says this: "Although Death-Cast doesn't exist… the feelings, the questions, the fears, and the rawness highlighted in this novel are all very real."
Link to Podcast here:
https://soundcloud.com/daniel-yu-230358261/podcast-they-both-die-at-the-end