The sun beats down on the sandy field as the girls take their position and settle on the bases; the batter walking up to the plate. The heat of the afternoon is commonplace for the players who turn their attention to the batter's stance, awaiting her next move. 
For Jenna Dermksian, this is just a regular afternoon during the softball season. 
As a junior at KHS, the student athlete is swinging into her upcoming season where she will play on both high school and club teams. 
The young athlete has been playing the sport since she was five years old, and joined club softball at nine. She is a three year varsity player who earned her varsity letter freshman year. Softball is not the only sport Dermksian has played. She played volleyball throughout middle school and into freshman year at KHS. However, volleyball conflicted with her softball schedule and forced her to choose the sport she would stick with: softball. 
Other sports are not the only thing conflicting with her softball schedule, as a dedicated student, school gets in the way as well. Dermksian has had to miss school for softball tournaments out of state. Despite the sacrifices she makes for softball, it is clear she values the importance of her education. 
"All through my life, my academics have always come first before athletics. My grades are very important to me and my overall success in school," she said. Even her friend and classmate, junior Katelyn Jones, commented on her academic focus. "She is a good student and athlete, and uses the same hard working mindset for both," Jones said.
Dermksian follows her hardworking philosophy through her time-consuming softball schedule. During the high school season, there is practice six days a week in addition to games.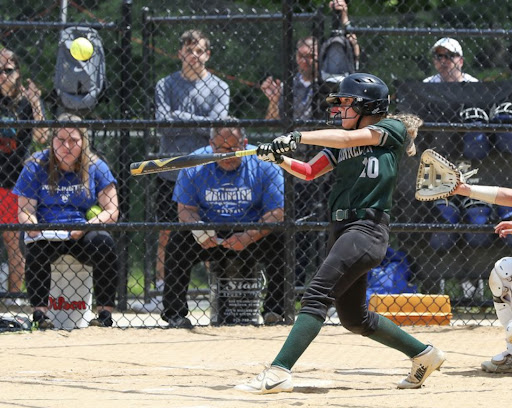 Her club season entails practice twice a week, weekly individual training, tournaments, as well as weekend games.
However, all of that almost came to an abrupt end in the fall of 2021. It was then that Dermksian began to feel pain in her elbow when she played during the middle of her club season. "I did not think much of it at the time as coaches have always told me to shake it off," she said but, "the pain continued and worsened."
She iced after every game and limited her throwing because "it felt like there was a throbbing heartbeat in my elbow," she said. It was at this point that Dermksian decided to go to the doctor once the season ended. 
"My parents took me to the doctor where they x-rayed my elbow, and the x-ray showed nothing. The doctor told me that I was going to have to go for an MRI as there was a great possibility that I had torn my Ulnar Collateral Ligament (UCL) in my elbow or had severe nerve damage", she said. 
Tearing her UCL would mean she could never play softball again. 
"My anxiety and nervousness were great waiting for the arrival of the results as there was a possibility I would never play the sport I loved ever again," she said. Fortunately, her results came back to reveal that the ligament was not completely torn. However, Dermksian still had to go through six months of physical therapy. "I had lost all strength in my right arm and had to work my way back to where I was," she said. 
After months of hard work and caring for the injury, Dermksian returned for her sophomore season. Not letting her injury get in the way of her passion, she went on to accomplish one of her greatest achievements. "Winning the N1G1 State Sectional Final last year for high school. That was very big for us since it was the first time it had been done in 25 years," she said. 
Father Greg Dermksian is extremely proud of his daughter and her accomplishments, finding her mature beyond her years. "Jenna is a professional athlete in a teenager's body. Her resilience and ability to train and play through pain makes her a standout amongst her peers, teammates, and opponents," he said. 
Dermksian now moves forward playing her best and enjoying the sport she loves. "She continues to show that she will not give up until she gets what she wants," classmate Jones said. Even through the tougher moments, Dermksian has pushed through as a hardworking athlete and student. She said, "Softball has impacted my life greatly. I strongly believe it has shaped me into the person I am today and how I go about my life."