Smith's 20-Point Night Not Enough as Kinnelon Loses to Madison 61-46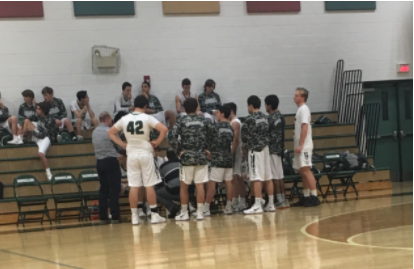 Hang on for a minute...we're trying to find some more stories you might like.
Sophomore Easton Smith proved to be a bright spot in the Jan. 8 game against Madison, earning a total of 20 points; still, this wasn't enough to earn a win for KHS that night.
Smith finished the game with seven total-made field goals, two of which came from beyond the arc.  
Kinnelon scored four points in the third quarter, while Madison scored 18. That effectively put the game out of reach for the Colts, who utilized a full-court press in the fourth quarter.
Freshman spectator Devon Diamante said, "(That quarter) ruined that momentum we started with."                                                                    
However, Kinnelon started out the fourth quarter right, reeling off an 8-2 run to close the lead to 12 points. Then, Madison started to break the press, either getting easy baskets or stalling out the clock.
Kinnelon's chances of winning weaned as Andy Christos, a junior on the Madison Dodgers, threw down a one-hand jam. The dunk ballooned Madison's lead to 15 with just over a minute to play. Madison ultimately won the game,  61-46.
The Colts currently sit fourth out of six teams in their league, with a 4-5 record as of this writing.
For more information check out the Kinnelon Sports Twitter and Kinnelon High School homepage for more updates and schedules.