Florence, Italy: A Traveller's Exposé
Long beautiful skylines, vineyards, mountains, and the Tuscan sierra; the epitome of all effortless beauty lies within the capital of this region,
Florence. Firenze, as the Italian locals call it, is home to some of the most mesmerizing architecture and art known to mankind. One staple of this historic city is the world-renowned Duomo.
Constructed from 1296 to 1436 and placed precisely in the center of the city, the cathedral's Duomo (dome) design belongs to architect Filippo Brunelleschi. Evident in its design are strong influences of the Renaissance, a very artistically significant period in Italy's history; however it does remain loyal to the Gothic style.
The Duomo is formally known as the Cattedrale di Santa Maria del Fiore. Today, one of Florence's most famous hotels, Hotel Brunelleschi, is named after Filippo himself. The hotel is located very close to the Duomo, so much so that most rooms have an uncompromised view.
A three minute walk away from the piazza, the Uffizi Gallery, Piazza della Signoria, and many other of Florence's Renaissance glories, Hotel Brunelleschi is surely a highlight of this wonderful city.
Florence possesses a rare quality where even a month of traveling and walking around will not suffice the traveler's curiosity.
Another one of Florence's absolute must-visit places is the Palazzo Medici Riccardi, an incredibly eye-opening Renaissance palace originally belonging to the Medici Family. Vivid in one's memory are the streams of light filtering through the windows of the halls and the decor. Strolling in the palace, one feels encompassed by the past and as if they have been transported to a time where the biggest patrons of art and architecture, the Medicis, had lived.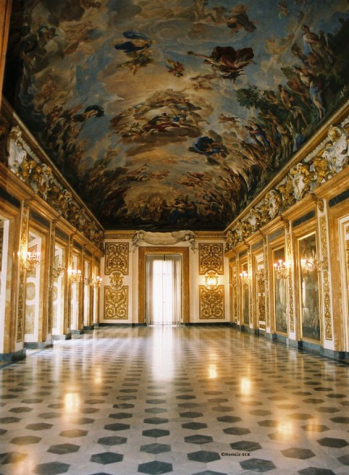 In 1444, Cosimo the Eldest, the patriarch of the Medici family, commissioned to Michelozzo to build a palace, more specifically the first Renaissance building in Florence. The highlights of the palace lie in the large halls decorated with the frescoes of Luca Giordano (one of the most significant examples of Baroque architecture in Florence).
Additionally, the Chapel adjacent was frescoed in 1459 by Benozzo Gozzoli and portrayed the wealthy protagonists of the time and members of the Medici family. Florence, Italia's hidden gem, transports all visitors to the past. From the cobblestone strade, to the small gallerie and of course Michelangelo's "David" sculpture (displayed at the Galleria dell'Accademia), everyone must take the opportunity to see the starry Italian sky from the same piazzas that Michelangelo and Da Vinci did.
Grazie per aver letto (Thank you for reading), 
il viaggiatore (The Traveller)