Hit Play This Holiday Season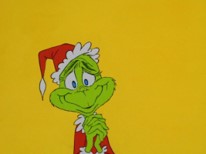 Hang on for a minute...we're trying to find some more stories you might like.
The holidays are extremely popular and are the No. 1 time for celebrating family and enjoying that special feeling that's unique to the holidays.
So, here's playlist to listen to really get into the holiday mood.
First, we have some older crooners of the '50s: Andy Williams, Frank Sinatra, and Tony Bennett. Andy Williams' warm voice is renowned for his most famous christmas song, "It's the Most Wonderful Time of the Year." This song is bound to warm anyone's heart, and it really personifies the special one-time-a-year feeling that only comes on Dec. 25.
Frank Sinatra, as most everyone knows, has been extremely popular for almost as long as he's been around; to add some classic vocals to your holiday, I included his version of "Jingle Bells."
As for Tony Bennett, those of you who love jazz will appreciate Tony's effortless style and rhythm. All of these older swingers will help to set the tone for the other artists included on this list.
Next up are the fun and iconic songs. Everyone has seen The Grinch in one film adaptation or another ; or at the very least, heard the song "You're A Mean One, Mr Grinch."
To add some older pop, there's "I Saw Mommy Kissing Santa Claus." After all, who can resist the cute little Michael Jackson, especially once you hear his killer vocals at only age 12? News flash: It's nearly impossible.
Our next songs are throwbacks to older songs, which is how we keep them alive every holiday season. In this list, we have Michael Buble singing "Blue Christmas," Pentatonix's  "White Christmas" and "Mary Did You Know," and Lauren Daigle singing "What Child is This." These are all classic songs but with the expert vocals and variety of techniques used, these songs are transformed into brand new classics that can be enjoyed for years to come.
Lastly are the crowd pleasers. These songs are so much fun and are fabulous additions to this holiday playlist. First up, we have Mariah Carey singing (what else), "All I Want for Christmas Is You." This song is the trademark of her incredible career, and is always a blast to sing to with friends, family, or even by yourself. You can't help but feel Christmas-y when you hear it. Kelly Clarkson singing "Wrapped In Red"adds some soul and feeling to our playlist. Ariana Grande singing "Last Christmas" with her own twist adds to the already magical feel of the song. Jessie J sings "Santa Claus Is Comin' to Town" in an effort to add some bigger and jazzier vocals to our playlist. And of course, "The Nutcracker" was a must add in order to bring us back to all those childhood memories.
https://open.spotify.com/playlist/5ExIBUnhSVChtSHYyHsfxp?si=kKzZ6GW_SGO4UZ1rppq5Tg
HOLIDAY PLAYLIST:
It's the Most Wonderful Time of the Year                                           Andy Williams
I Saw Mommy Kissing Santa Claus                                                    Jackson 5
Jingle Bells                                                                                          Frank Sinatra
Wrapped In Red                                                                                   Kelly Clarkson
Last Christmas                                                                                     Ariana Grande
Santa Claus Is Comin' To Town                                                          Jessie J
The Nutcracker Overture                                                                     Tchaikovsky
All I Want For Christmas Is You                                                         Mariah Carey
Blue Christmas                                                                                    Michael Buble
I've Got My Love To Keep Me Warm                                                Tony Bennett
White Christmas                                       Pentatonix (feat. The Manhattan Transfer)
What Child Is This                                                                              Lauren Daigle
The Grinch                                                                                          Thurl Ravenscroft