High School Athletics: The Underclassmen vs. Upperclassmen Experience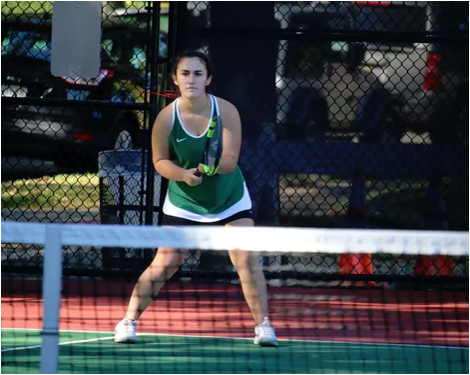 Hang on for a minute...we're trying to find some more stories you might like.
The progression from middle school to high school can be an exciting yet daunting experience. For many incoming freshmen students, one of the best ways to ease the transition is to become involved in various clubs, extracurricular activities, or athletics. Joining a sports team provides students with the opportunity to develop new friendships and create long-lasting memories.
Junior Caroline Balick and freshman Claire Zhang are both members of the varsity tennis team and offered insight into the team dynamics as an upperclassman and as an underclassman, respectively.
Zhang reflected positively on her first year as a high school athlete. She stated that she was able to make new friends relatively easily and enjoyed the season overall.
"In the beginning, I was intimidated [by the upperclassman] but they were really welcoming. At the end of the season, it was very different and I enjoyed being with them," Zhang said.
Team bonding activities, such as pasta parties and movie nights, made the transition easier. In addition, each underclassman ("little sister") on the tennis team was assigned to an upperclassman ("big sister"). The two students made posters for each other's lockers and also baked treats for each other prior to matches.
Going into her third season on the tennis team, Balick felt more confident in her abilities than in prior years. She stated that, "I definitely felt more comfortable as a junior on the team than as a freshman. I had much more experience with tennis than I did in my freshman year."
Balick's friendships formed as an underclassman also made her junior season more enjoyable. Balick shared insight on the differences in athletic expectations as underclassman versus upperclassman. "It was the most fun to play as a sophomore…there wasn't as much pressure as there was in this season."
Despite their differences in grade, both Zhang and Balick both feel their high school athletic experiences have been positive. Being a freshman surrounded by juniors and seniors can be uncomfortable at first, but many students find their own place on the team by the end of the season. As Zhang said herself, "It was an awesome season and I made a lot of new friends!"