How to Train Your Dragon: The Hidden World (2019) Review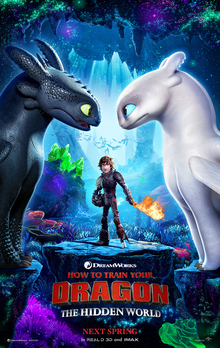 While 2019 animated movies start with a bang, the How to Train Your Dragon films end with one.
For what appears to be the final entry in this franchise, 'The Hidden World' is a delight. All the elements that make these movies great are front and center. There's a good balance of humor and drama, it's action-packed, and the character dynamics are terrific.
But, that's not all. The film also introduces two new characters who are integral to the plot. Grimmel and the Light Fury are both nice additions to the franchise in their own ways. Grimmel is a great enemy for Hiccup, representing what he would've become had he killed Toothless in the first movie. Meanwhile, the Light Fury is the perfect love interest for Toothless.
Speaking of which, the dragon romance is one of the best parts of the movie. It's just so adorable and touching to watch.
The voice cast is phenomenal, as they've always been. They make these characters feel like real people. The animation is simply stunning and beautiful, which comes as no surprise.
But, what really makes this third installment amazing is its ending. The conclusion is Impactful, emotional, and satisfying. It's not quite as good as the first two, but, somehow, this movie manages to make that problem seem pretty insignificant. This film leaves the series on a high note, and that's what matters most.
With that said, I'm giving 'How to Train Your Dragon: The Hidden World' a 9/10 rating.