Track Team Bonds with Cheggs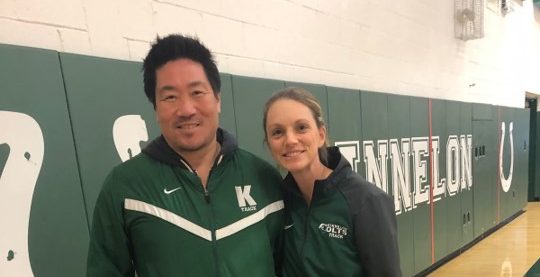 On your mark. Get set. Go! The games have been played but they not the only part of this team. Full of energy, these young athletes look up to none other than their coach, Laura Chegwidden.
Coach Chegwidden began her journey coaching track in high school by training her sister's Wildcat Recreation Center team. She then made her way up to the middle school to coach for five years. All of her experience guided her to be a beloved high school track coach.
"The girls have a really promising season coming up…they could win sections and states," says Chegwidden.  The girl's track team has had quite a couple of wins and have set their eyes on winning states and sections. Full of positivity, she sets up various ways to strengthen her team's' bond with each other and with her.
To start, Chegwidden has introduced several rituals that are performed before and after a meet. After having gone through yet another battle, the team sits down side by side to recap the highlights and discuss ways to get to the top and do even better next time.
She also tries "to connect with each athlete and get the best out of them so that they can individually have success and have success as a team."  She has developed quite the bond with her athletes and serves as their inspiration.
Freshman and track member Mia Giglio even speaks to how much Chedwiggen motivates her students." When I was in sixth grade, I had Mrs. Cheggs as a gym teacher and she always told me that she wanted me to run track for her in high school. She told me again in seventh grade."
Baylie Daniels also says that she is supportive and really cares about all the athletes.
" She can be tough but wants us to learn and get better," said Abigail Monesmith, a track athlete from the age of six. with such great guidance and support from their coach, the girls track team is set for a great rest of the season, and hopefully many more.
Chegwidden says, " When you have a result don't get high or low on it. Celebrate success. Learn from failures. Be ready to pick yourself up."