Spring Track Starts Their New Season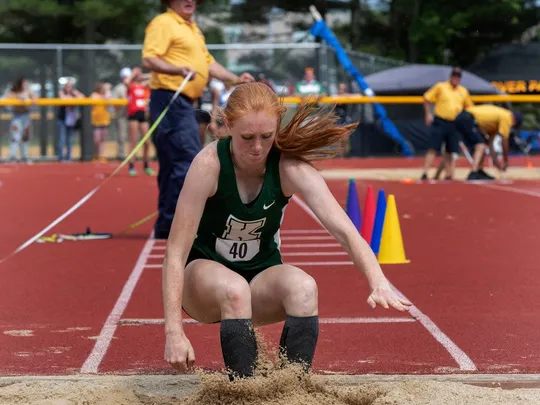 Hang on for a minute...we're trying to find some more stories you might like.
The first day of spring sports came up on everyone quickly. New team members were introduced, new and old coaches returned, and new goals were born. For the Kinnelon girls spring track team, their goals just got a lot bigger.
The girls track team was placed back into North I Group I, which is the group for the smallest schools. Predictions soon came out after the groups were assigned and Kinnelon is predicted to win both sectionals and states, an accomplishment that has not been done since 1985.
"It's really exciting," says Kylie Pitt, a senior, "It's a cool opportunity, and it makes you have a big drive to really improve yourself."
Although the spring track season has just begun, the team is already working hard to ensure that they are giving it their all when championship season rolls around. The team had three meetings already, to ensure success for the season.
"It's important to always make sure that everyone is on track," says Kathryn Brown, a senior captain. "Making sure that everyone is doing the warm ups properly and really focusing on their goals is critical."
Kathryn was one of the top female athletes who qualified for states and meet of champions. Last year, she came in sixth for hurdles with a time of 15.73, sixth in long jump with a distance of 16-11.25, and fifth in triple jump with a distance of 37-5.25. She qualified for Meet of Champions, a track and field State championships event, in long and triple jump.
Last year, due to the increase in school size, Kinnelon was moved into North 2 Group II for spring track, a group where Kinnelon was on the smallest size. Getting bumped up to a group with larger schools proves to be a challenge when it comes to qualifying for states and MOCs. There were two 4X800 teams that qualified along with two individuals compared to the year before with two 4X800 teams and five individuals.
Despite the tough competition at sectionals, the girl's team won their conference for the first time in a while. The team accomplished this by beating every team at their dual and tri meets. With new runners, the team hopes that they can get the title again.
"Moving up to Group II was difficult," says Laura Chegwidden, the head coach. "The team was struggling to qualify in their best events. But I know that this year will be better, our girl's team has a lot to prove."
This season is bringing new hopes for the team. They get a chance to show all of their hard work and dedication throughout the season. The new season it unknown, but the hard work and dedication that the girl's put into every workout will pay off.