Hozier's Newest Album Captures Hearts of Fans
When sulking on a gloomy day, assumingly forced to listen to nothing except the raindrop's clatter rapidly falling from the sky, the perfect cure for the listeners wallowing is none other than Hozier's new album, "Wasteland, Baby!". Delivering just as dreary and dark of a vibe as he accomplished during his first EP, "Hozier", he captures his listener by enhancing some of  his tunes with calm melodic elements; lyrically focused upon an apocalyptic ending to the world. Yet on a few of the tracks, he reaches at a much more light-hearted message focused directly on love and music itself.
Leading off the 14 track album is one named "Nina Cried Power". A pre-released song featuring Mavis Staples is one that fastens the listeners seatbelt as they strap in to experience the emotional rollercoaster that Hozier guides them through during "Wasteland, Baby!"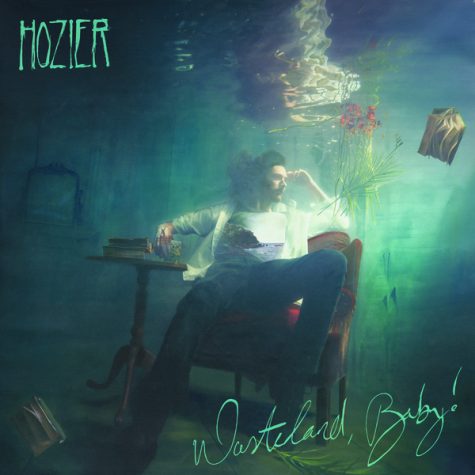 During an interview with Billboard, Hozier stated,  "[If] it's an absurd love song that's about the world ending in no metaphorical way, at least make it a whistle-able tune… You get great results out of just approaching that light and dark."
Since the start of Hozier's career, one aspect of his music that he has always been accountable for is his intricate guitar segments. Both pieces, "Shrike" and "No Plan", begin solely with Hozier alongside his guitar. Nothing else can be asked of him but to strum his guitar in the effortless manor that he demonstrates so exquisitely.
One song doing exceptionally well since its release is "Almost (Sweet music)". A unique song does not do it justice as it's primary beat is one in which could be done by anyone. Hozier created a clapping and snapping sequence that is now circulating the internet and an interactive way for his fans to contribute to the performance throughout his tour. Not only is this routine a fun way to start off this song, "Almost (Sweet Music)" is one of the few upbeat, positive tracks that is easy to sing and sway to. Through its lyrics, homage is payed to many remarkable jazz musicians and their pieces, such as "Stella by Starlight" by Miles Davis, "Night and Day" by Frank Sinatra, and Duke Ellington to list a few.
To end such an exceptional album, Hozier does so similarly as he did his first. The last track on "Hozier" is named "Cherry Wine"; a very soft, gentle song that peacefully concludes all of the emotions and themes mentioned previously. "Wasteland, Baby!" is the last track on his sophomore album and is just as peaceful as expected, though its lyrics are not quite so soothing. Billboard stated,
"
"But "Wasteland, Baby!" is the mission statement, and it ends the album not with a bang, but a Sufjan Stevens-esque whisper. The end of life on earth as we know it is directly addressed in the lyrics, as is the hope that something new will follow: When the stench of the sea/ And the absence of green/ Are the death of all things/ That are seen and unseen/ Are an end, but the start of all things that are left to do.""
— Billboard
Hozier ultimately demonstrates his bittersweet musical ability by concluding his collection through a song with such tranquil flavor and then giving it an underlying meaning. One of which accesses only the most discontent feeling one can imagine when thinking about the end of the world. And then of course sweetly coming to an end when saying there is a "start of all things that are left to do."
McKayla