Boone Ejected in Yankees Win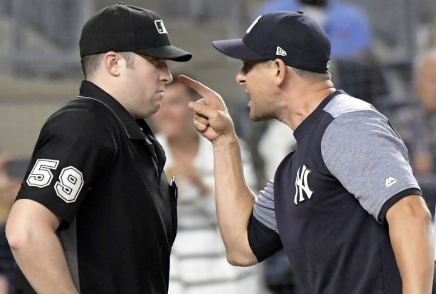 Hang on for a minute...we're trying to find some more stories you might like.
New York Yankees manager, Aaron Boone, was recently ejected from the baseball game on July 18 against the Tampa Bay Rays. Brennan Miller, the home-plate umpire, ejected Boone for arguing balls and strikes.
Miller, who was just promoted to the big leagues, took an ample amount of heat from the Yankees on Thursday. Boone, who was mic'd up during the game, said, "Really bad start," to Miller.
DJ Lemahieu, the Yankees infielder, looked at an outside pitch that was called a strike and said, "Brennan, that's so far outside."
Once Boone received his ejection from Miller, he stormed up to Miller and said, "My guys are savages in that box."
Due to his ejection and accidentally making contact with the umpire's cap, Boone got a one-game suspension from the baseball executives. The Yankees ended up winning that game against the Rays 6-2.