To Play or Not to Play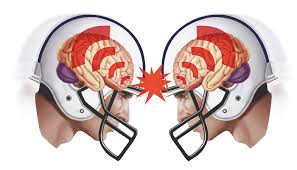 Throughout history, sports have advanced technologically, and studies have revealed their true danger. One injury in particular seems to be growing more prevalent and feared by the year. This injury is mild traumatic brain injury (MTBI), better known as a concussion. Concussions have been a national epidemic for years with over 1.6 million cases being reported in the last year alone, completely blindsiding athletes and doctors alike. Shockingly, concussions have been responsible for 1.5 times more deaths than AIDS in the US. With this comes the question: Should contact sports be taken away from the youth? The answer is that, until head protection improves, athletes might have to take their heads out of the game.
Not all athletes experience this hands-on, but those who have must recall those experiences vividly. A severe concussion knocked out KHS sophomore Alex Relovsky and left him sidelined for a month.
 "I wasn't myself and I could feel the toll it took on my body. My eyes, head, and ears hurt for weeks after my concussion, it was awful," Relovsky said. 
While boxing has been the main cause for concussions, football has been on the uprise. Relovsky explained the choice to continue playing this sport, 
"I definitely questioned my future in sports, I did not want to have permanent damages, but I knew I had to take a risk and enjoy my youth while it lasted, and I needed football for that to happen," Relovsky said.
 Concussions not only lead to mental disabilities, but life-changing decisions that need to be made as well.
Another example of a life-changing decision that came at the hands of a concussion was when KHS freshman Anthony Masherelli recently suffered a concussion. He suffered his concussion in a similar situation, but the lingering effects to follow are still a matter of concern.
 "I seem to have a lower tolerance for being hit, my head sometimes bothers me after a blow and nothing has been the same after the first concussion, I could not remember anything, it was all a blur," Masherelli said.
 These side effects are common when a concussion takes place, and many athletes experience this pain during and after a concussion. While having a variety of potential causes, symptoms, and effects, a concussion is fairly simple to understand; the brain is forcefully moved out of place during this injury.
Not only football but boxing has a great number of victims to a concussion, student Matthew Mauriello knows first hand what it is like to be blown out by a punch, leading to his first concussion.
 "I love boxing, but after a tough hit, nothing was the same, I failed the concussion test three times and couldn't play any sports all spring. It was tough," Mauriello said.
 While concussions have been taken more seriously recently and technology has improved, hits have gotten harder. This means concussions are not going anywhere anytime soon, and more tough decisions will have to be made.