Painted Parking Spots
Seniors painting their school parking lots is a rapidly-growing trend; could KHS be the next school to adopt this tradition?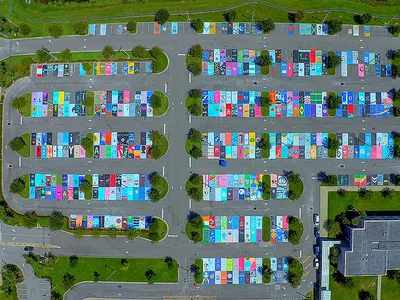 Across the country, high schools are letting seniors turn their parking spots into beautiful, eye-catching art. Some schools, such as Kinnelon High School, however, have yet to jump on the bandwagon. 
This new tradition of painting parking spots has sparked interest with KHS seniors. "That sounds like a very fun idea. I'm sure a lot of people would love to do that. We could make a project out of it," said senior Rocco Damiano.
Kristen Matits, also a senior, thinks "it would be really cool to incorporate all the things that shaped us into who we are throughout high school in our parking spots." 
Other towns in New Jersey have already implemented this tradition within their communities. Parsippany, Colonia, and Montgomery are among these towns, and many of their seniors have already painted beautiful parking spots.
Bringing this to Kinnelon would help portray the creative talents that our seniors possess in a way that could be shared says senior Derek Fitzgerald. He says that painting his parking spot would "provide [him] with more creative liberty." 
This project is designed to bring together friends and family by allowing them to help paint together, making a memory that will be cherished forever.
Underclassmen also like the idea of a more colorful parking lot. Sophomore Ryan Paul says that he "would be so much happier to come to school and see all of the spots." Moreover, introducing this tradition to our school would allow for bonding between students, staff, and the community.
Click here to see some pictures of past spots from schools around the country.