The Death of Sports?
As the COVID-19 pandemic worsens, the leaders of sports leagues and public officials across the globe temporarily suspend many popular sporting events.
The sports world as we know it has been crushed by the recent COVID-19 pandemic. As many sports outlets have nothing for viewers, they have turned to the past, the coronavirus-free times, and decided to air non-stop reruns of old championship games and iconic sports moments. TV channels such as ESPN, ESPN2, ESPN NEWS, FOX SPORTS, etc. have all turned this trend into the "norm" until further notice. 
While it is clear that sports will not return to normal in the coming weeks, does anyone really know how long the sporting world will be stuck like this?
President Donald Trump recently had a meeting with 13 different commissioners to discuss plans on how, and when, play and progress of major sports leagues will resume. With word quickly spreading, the President said that he expects major sports to return by mid/late August. 
Not only have the viewers taken a hit from losing their sources of entertainment, but companies such as NBC and FOX have also lost millions of dollars due to the cancellation of games as well, according to The Washington Post. Whether it has been the cancellation of Wimbledon, The Masters, or postponement of major leagues such as the MLB, NBA or NFL draft, virtually every sport has suffered some type of date setback.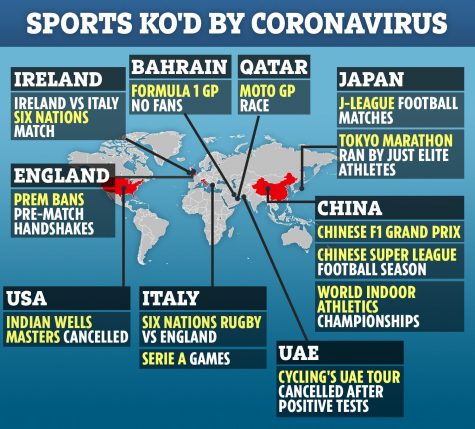 "I have quickly run out of things to do, and I speak for all sports fans when I say that this pandemic is taking a toll on us," said freshman Richie Geng. Clearly, this virus is hurting sports fans, perhaps not physically like the actual virus, but certainly mentally. 
Also, the NCAA and schools across the country have taken a colossal hit with regard to late winter and spring sports. In its recent meeting held in Indianapolis, IN, the NCAA voted to give all spring athletes an extra year of eligibility to return and play for their respective teams, including graduating seniors. They did not, however, grant the same to winter athletes, which has sparked much controversy. 
With many universities closing late February into early March, championships and tournaments have been shut down for the season. Anyone who has been an athlete before knows that the main goal by the end of the season is to be the best and win a championship or tournament. However, many seniors will not have this chance as the NCAA canceled March Madness, the NCAA's premier basketball tournament. 
These times are obviously tough on the general public but also on athletes in particular. Many athletes have had their future tarnished, dreams shattered, and goals crushed. At this time, all we can do it come together and fight this virus, because the faster and more efficient we do, the sports world will be once again revived back to normal.