COVID-19 Testing in Pro Sports
The results of the biggest hurdle that sports has ever faced.
As a result of COVID-19, the active pandemic that has done its fair share of damage to people around the world, professional sports organizations are faced with the extremely difficult task of properly testing all of their players before resuming play. 
Fans across the world are eager to once again cheer on their teams and watch live competitions of their favorite sports. In order for professional sports to get back into full swing, however, many rounds of COVID-19 testing are required to ensure that no athletes, coaches, or team personnel have the virus.
Due to the increased testing, fans are seeing athletes from various teams testing positive for COVID-19. As organizations such as the NBA and NHL, player testing indicates that an alarming amount of players, and a good portion of the staff, are positive for COVID-19. The positive test results are not a good sign for the resumption of college sports as well, as players who test positive may have been exposed to teammates or staff members.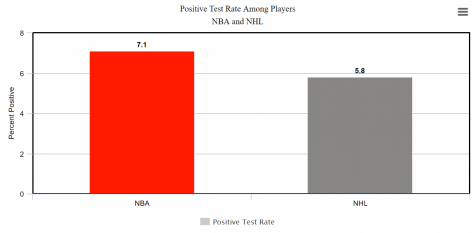 The NBA alone has seen a 7.1% positivity rate among its players, with the NHL positivity rate coming in at around 5.8%. The MLB also recently announced that 6 players had tested positive for COVID-19 in its most recent round of testing. However, the MLB is still shooting to resume action on July 23.
For the entirety of professional sports, there will be players and staff testing positive for COVID-19; that part of the matter cannot be changed by professional sports teams and organizations. However, the manner in which teams and organizations respond to positive COVID tests will determine the fate of their upcoming seasons. If players, teams, and leagues as a whole take proper preventive measures following positive COVID tests, professional sports seasons may just be able to return to normalcy.
Leave a Comment