Just Fabric: Harry Styles x Vogue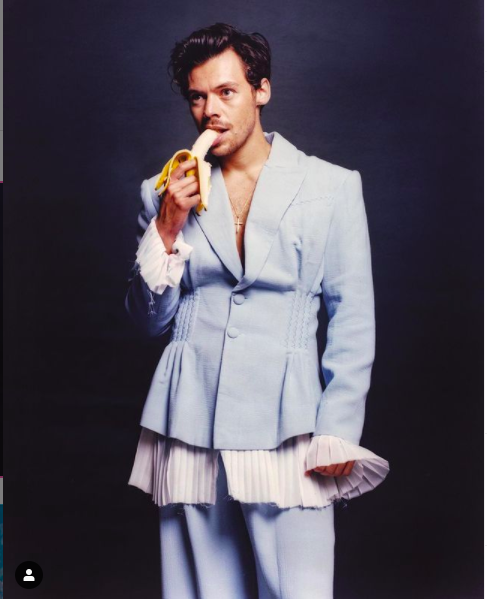 Many boys, no matter what their gender identification is, have recounted tales of wearing their sisters' dresses or just playing dress up as a kid, akin to Harry Styles. This month, his childhood memory was on the front cover of vogue and for many, even sparked a glimmer of hope and acceptance. 
Last month's Vogue special issue starred Harry Styles wearing a Gucci dress. Alongside his photo, the Vogue cover states, "Anytime you're putting barriers up in your life, you're limiting yourself." He not only had a startling statement on the cover, but he was embracing a brave and bold fashion style that provoked discussion regarding what it is to be "a manly man."
His reasoning for such a bold cover during such hard times, he said to ETonline.com, is as follows: "I believe in karma, and I think it's just a time right now where we could use a little more kindness and empathy and patience with people, be a little more prepared to listen and grow." He also says that this is not his first time wearing a dress, he has been embracing such fashion since he was a child. For example, he describes the time with his mother when she used to make him dress up as a kid and they used to play costume as one of his favorite childhood memories. In the article, he tells ETonline, "I like playing dress-up in general."
The most discussed topic on social media that week was "toxic masculinity," and one person stood out the most against Harry and his style choice: Candace Owens. On Twitter, Owens said, "There is no society that can survive without strong men… bring back manly men." According to DailyMail, many celebrities shot back at Owens and took Styles' stance on the topic. Among them, Lord of the Rings star Elijah Wood replied to Owens stating, " I think you've missed the definition of what a man is." Olivia Wilde joined in, calling her "pathetic."
Harry Styles did stay silent for a few days before he shot back on his Instagram with a photo captioned, "Bring back manly men." 
Harry Styles has stood up against gender stereotyping and rude statements previously in his career as well. He has talked about how he doesn't "objectify women" as many interviewers ask him and he also shot down an interviewer when asking about his 'crazy' fans saying that he  "didn't know who she was talking about."  And after clarification, saying that they were "the best people in the world."
It seems like this isn't the first time Harry Styles has defied societal norms and, evidently, it's not going to be the last time. After provoking and conquering the discussion of toxic masculinity and embracing a new style, Harry Styles has changed the way the world looks at men. He has brought enough light to the topic for many other celebrities to stand with him against toxic masculinity as well.