Kinnelon Teacher Creates Cast on Past
Peter Zablocki shares his historical knowledge on new podcast and more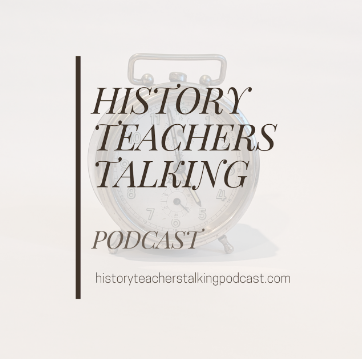 Kinnelon High School history teacher Peter Zablocki started History Teachers Talking, a historical podcast, with a longtime friend and fellow history teacher, Thomas Reszka, in the first months of lockdown caused by the COVID-19 pandemic. Since then, his podcast has taken off. 
As so many hobbies and endeavors have, the podcast grew out of COVID-induced boredom and a longing for the halcyon days of in-person connection in school. Zablocki says that he and his co-host founded the aptly named podcast because, "we missed the ability to talk history with our students and have that banter."
Still, the podcast is not simply additional history class. As friends since college, Zablocki and Reszka bring a friendly and fun dynamic to the information discussed in every episode. On top of their enjoyable banter, the show is also different from a typical history class both in the content they discuss and the lenses through which they look at history. "It's talking about some history topics that you may have heard about in class and some that you haven't but also talking about them outside of the limits of a curriculum."
With episodes on topics as varied as breakfast cereals and serial killers, it would certainly be hard to pin the podcast into the confines of any history class. Zablocki and Reszka get some ideas for episodes, such as their episode on Davy Crocket, from fans of the podcast who send in recommendations. More often, they come from their own lives. For example, Zablocki said that his co-host "called… on a Saturday morning. He was like 'what are you doing?'I said 'I'm eating cereal', and he said 'oh we should do a podcast on that' I'm like 'alright. Let's do it.'"
After deciding upon a topic, however, the two research independently, and all of the episodes are unscripted. This means their conversations can go anywhere and are completely organic. "There's zero set script… we want this to be unscripted and an actual conversation, so I don't know what he has and he doesn't know what I have, and you actually hear it. It's very unscripted and as off the cuff as we can be while still being prepared."
The podcast, which was initially started as a way to have some fun and talk about history, has quickly accumulated over 2,500 subscribers hailing from all over the world. This impressive success has not come without work though. "We have our hands full," Zablocki admits, which is understandable given that each episode takes an hour to record and up to two hours to edit.
The burgeoning podcast, however, is far from his only current creative historical endeavor. On top of the podcast and teaching at KHS, Zablocki is also the Vice President of the Denville Historical Society, and he has a book about a true crime that occurred in Denville coming out February 22. 
This book is currently available for pre-order on Amazon, and the podcast can be found on Spotify, Apple Podcasts, Google Podcasts, Podcast Republic, Breaker, Overcast, Pocket Casts, and RadioPublic. These locations and more information about the podcast can be found on its website.
For now, the goal is to just keep having fun with it and expanding their audience. "The goal for the podcast is just to continue talking about history and hopefully inspire some other people to do the same thing. History is fun. It doesn't need to be all about tests and essays; it can just be a fun conversation."
View Comments (1)