Starting From Scratch Through Creativity
The National Art and English Honors Societies have come together to organize an art and poetry contest, inspiring students to embrace "New Beginnings" on the horizon in 2021.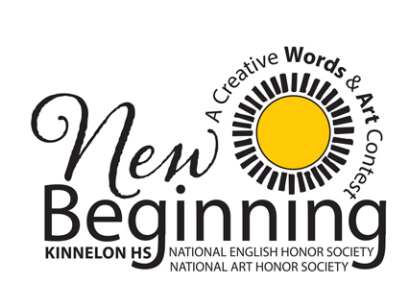 After the challenges of 2020, many students are excited for the new year; to showcase 2021 and the hope many have for it, the National Art and English Honors Societies have partnered together to organize a poetry and art contest themed "New Beginnings". Writers and artists at KHS can submit their pieces up to Feb. 5, 2021. 
This competition allows students to express their ideas to their peers through poems outside of the classroom. "Poetry, in particular, distills emotion and experience and enables us to connect with others," says English teacher and NEHS advisor Lori Robbins. "We hope to accomplish the connection from each person who submits a poem and each person who reads that poem." 
Similarly, the competition also promotes this self-expression through artwork. "Art and poetry are both creative outlets for the students to study and perform in. Words and pictures are a natural marriage of creativity," says digital imagining teacher and NAHS advisor Alice Kivlon. 
"The theme of 'New Beginnings' is just really flexible and subjective overall, so it gives people an excellent opportunity to write virtually whatever they feel like while also sticking to a universal theme," says NEHS executive officer Lauren lee. 
Through this competition, Robbins, Kivlon, and the executive officers "hope to accomplish some school wide participation and appreciation for the arts, even from those who don't typically actively participate in them," says NAHS officer Caroline Tighe. "It's also an excellent opportunity to get the idea of the NAHS out to underclassmen who may be interested once they hit their Junior year." 
In addition to giving students the option of poetry and/or physical art, there will also be three winners per category. "Winners for the art portion will be determined by outside judges. There is a prize if you win – first, second, and third place will all receive gift cards of varying values," Tighe explains. 
"[For poetry] the winners will be decided by the judging panel. We will be giving each poem two scores and averaging the two to get the final grade of each poem," says NEHS executive officer Maya Vaitovis. "From there, we will meet and discuss the highest scorers and the honorable mentions before passing along the final verdict. I believe there will be trophies and probably prizes for the 1st, 2nd, and 3rd place winners."
"I'm looking forward to all of the submissions. Even with the same mediums, different people can do so many different things, so I'm excited to see each unique take on the theme." says Tighe.
Leave a Comment