Go Colts!: The Cheerleaders Are Back
The cheerleaders prepare for their first home game of the football season after a COVID-19 setback.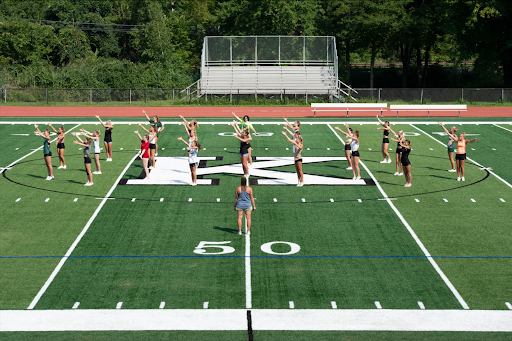 The Lady Colts are back and better than ever for the 2021 football season. After being put on a temporary pause because of a COVID- 19 outbreak, the cheerleaders are preparing for the first home game of the season on September 21st, against Whippany Park. These girls have been practicing since August, working on sideline cheers, band dances, and of course, the fan favorite, halftime routine. 
Since there was an unfortunate outbreak of COVID-19 within the team, the girls had to work extra hard together in order to come back from the setback. They even had to miss the first home game of the season against Shabazz. While the COVID-19 spread was incredibly frustrating for the squad, it did bring them closer together in a way. 
"I feel like we got a lot closer as a team because we had to really lift each other up and keep each other positive even though we were all really mad at the situation." Sophomore cheerleader, Madison Bsales said. The squad also had to move a lot of things around in the halftime routine since some girls were out due to contracting the virus. 
Riley Darlington, sophomore, said when asked about the effects of the outbreak on the team, "I was very upset because it is a group of all different ages and we all have such a close bond so having to be away was hard. We also had to change a lot of things in our halftime routine."
The seniors also had to face the setback which was especially hard since it was their final year cheering. Senior Delilah Metz said, "It made me upset because I couldn't come to cheer which caused me to miss out on my senior year". The 
The cheer squad is led by captains Lindsey Brittingham, Hilary Heid, and Cristina Nascimento. Their hard work and dedication to the team have paid off so much, and the cheerleaders are confident and prepared to perform for the crowd. "We are so excited to perform for the crowd at the first home game we are at. The captains and our coaches worked really hard to make us the best team possible" Sophomore Ella Corigliano said. Corigliano also spoke about how even though they faced a setback due to the outbreak, they still persisted in creating the best halftime performance they could.
The Kinnelon High School cheerleading squad will be performing on Friday, September 24 during halftime. Go Colts!
Leave a Comment