It's Not Just A Game…It's a Lifestyle
Rec Basketball students break down the competitive state of the Kinnelon Recreational Basketball League.
Yells, shouts, and squeaks echo across the dimly lit gym as local Kinnelon High School boys dash across the court. Lays, threes, and a whole lot of words are hurled from one end to the other.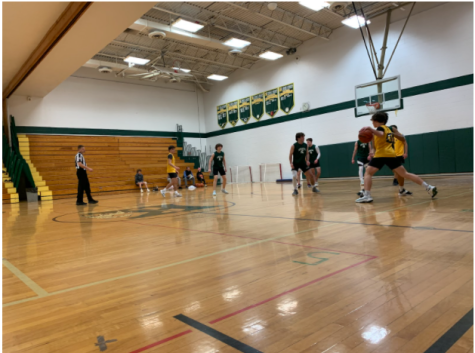 This year's edition of the Kinnelon Rec Basketball is the league's best one yet. Games are neck-to-neck, and nearly every game is streamed live on Twitch. Games usually take place in the old gym or the gym in Pearl R. Miller Middle School.
"I think it's a lot of fun to play basketball. It's been a competitive outlet. It's always a competition-rec is a chance to have some fun and loosen up," said senior Brian Lane. 
Lane is the unofficial head of the league's social media platform-amassing around hundred-thirty followers on Instagram, and 60 followers on Twitch. Much of the hype surrounding the league is due to his entrepreneurship of it-the name has been able to find a broader audience within the student body at the high school. Students in school now talk of games the day previous-if anything, the league has become a household name. 
"It's definitely a passionate game with competition-it's supposed to be for fun, I love seeing players want to win," said Lane. "Seeing that choppiness and heated moments shows how much passion and care kids in the town have for their sport." If anyone knows about competition, it is definitely Lane. He mans the camera for the streams during the games and is even a commentator during them. 
It is quite obvious that Kinnelon rec basketball is a fun, competitive outlet for players to experiment with their crafts, techniques, and teammates as they try to beat others who do the same. Nevertheless, games can get a little heated-especially when scores are tied towards the end.
"Oh yeah, it got crazy last game. If it's crazier, I want to play harder. If it's a tight game, I want to do 110%. Obviously, it's more competitive," said freshman Jayden Hur. It seems as if the tightness and hecticness of a crazy game can push players on the court to do more. The shots, the crowd, the viewers watching at home all can compel a player to have a standout night. Anyone can have a standout night-even Seton Hall, who had secured their first win over Tennessee just last week.
"It feels amazing. It feels like something that the team really needed. We know what it feels like to want to keep winning," said junior Anthony Masherilli. Masherelli had experienced woes on the court prior to the win, with every game Seton Hall played ending in loss. However, when they triumphed over Tennessee, it looked like a bright spark in the team's playoff hopes.
"It's the best thing to ever come to Kinnelon. It's so competitive at the same time, it's just for fun." Masherelli truly experienced the effect of competitiveness when the final buzzer sounded against Tennessee. 
With the rec season nearly to the playoffs, it is about time to evaluate the potential matchup of the 2022 Kinnelon Rec Basketball Championship. 
"I think Michigan State and Duke will face off in the finals," said sophomore Evan Relovsky. Michigan State has a fiery offense and even better lockdown defense. Do not count them out as the season continues to play out. 
Regardless, all teams and players alike should keep this in mind; everything is for fun. Despite the heated moments, questionable reffing calls, and angry coaches, players should remember that everything is in good sport. Players want to better themselves in a fun, chill environment that promotes taking that big shot or doing that bold thing. Kinnelon rec basketball has helped those that were once in their shell, to go out and explore their talents. Masherelli said it best;
"Go out and just have fun. If you have a shot, just take it. There are five times as many shots taken than shots made. You can't be scared, it's rec basketball."
Leave a Comment