Lights! Camera! Action!
KHS spring musical once again demonstrated success with their performance of The Little Mermaid during the first week of March.
Several teachers assisted in making the play a resounding success, including Charles Linnell (director), Ryan Stroud (Orchestra Director), Ray Danielson (Set Design) and Lauren Biggins (Musical Business Manager). The play adapts the story of the hit Disney movie, The Little Mermaid, and converts it into a two-hour musical.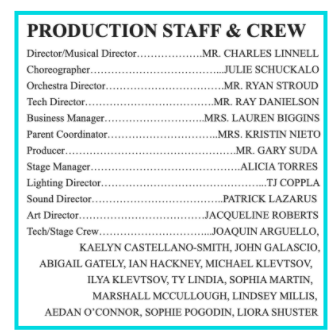 It follows the plot of Ariel (senior Katie Nieto), a mermaid who wants to exchange her mermaid life for one with the humans.
Opening night received good reviews from the audience. The KHS auditorium was filled with parents, teachers, and students who were excited to support the cast members as they once again delivered an entertaining play. With minor problems, such as issues with mics, everything went smoothly; the new mics and sound system that the district paid $20,000 for were a marked improvement.
One of the show's highlights was senior Emalene Castellano-Smith's portrayal of Ursula, the play's main antagonist. The audience also enjoyed Sebastian's role, played by senior Charles Bodner.
The stage crew members also dedicated themselves to this show, along with the cast and pit crew.