The School Fitness Center: Safe Haven For Gym Enthusiasts
The school gym at KHS is a heavily used resource in the high school; and, some are pushing for it to be open all week.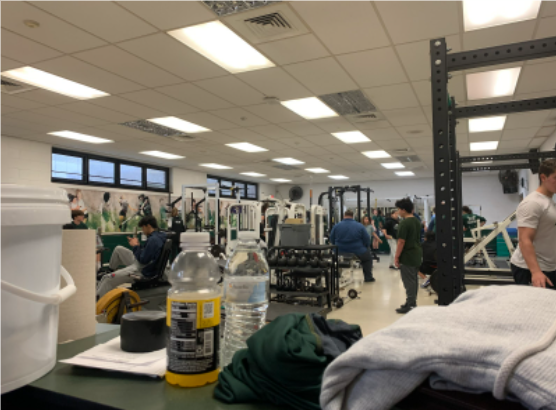 Adviser's Note: The views, thoughts, and opinions expressed in this opinion article belong solely to the author and do not reflect the view of The Colt Chronicle Staff, Kinnelon High School, or its students and staff members.
The weights clang to life. Plates drop and echo around the room. The music from the speakers shatters the eardrums of every person in the lab. This is not a club or a diner; this is the school gym.
Students and even teachers alike attend Kinnelon High School's fitness center, either trying to get bigger, more cut, or build a better self-image. Regardless of whatever reason why a student is in there, though, there is a big barrier separating those who want to go to the gym regularly and those who are athletes and use it for sports use. 
The high school has currently implemented a policy that applies both to non in-season athletes and those who are in-season. Those who are not athletes, or are out-of-season athletes, can attend the gym on Mondays, Wednesdays, and Fridays. Those who are in-season athletes (like those that are in a spring sport currently) can go on Tuesdays and Thursdays exclusively; however, they can technically go on any day they want (attendance permitting). 
The push to make the school fitness center open to all students five days a week is a major issue for the student body. Some believe that even if the small number of students who go on Mondays, Wednesdays, and Fridays were to be accommodated by the spring sports and their gym days, everything would work out. 
"I would go five to six days a week if it were open. I would use it if it were open five days a week," said Nick Taylor.
"Yes, I think the gym should be open all five days," said freshman Kira Symmons. "I feel like a lot of people use it every day, and people who don't do sports should take advantage of the gym when athletes are already out on the field." Symmons' words ring true for many, as much of the sports that take place in the spring take place outside on the turf or out on the track. 
Students who feel the need to better themselves should not be limited to going only three days a week; and while many would argue that a gym membership would be needed to actually pursue bodybuilding, the school gym is the perfect resource and opportunity to pour one's stresses and frustration out on making their bodies better. 
"I think it's very nice that [Nino] Capra opens it. And the equipment is great, considering it's a school gym," said sophomore Troy Schneider.
"
"I would go five to six days a week if it were open. I would use it if it were open five days a week.""
— Nick Taylor
Compared to other gyms in the area, for a gym that is technically free (if you are excusing tax money, of course), the gym is fine. People come in every day, excited to be able to pump iron and get better and shut the world out of the gym. The gym is a mindful space for many students at KHS, and the increased attendance of many (preferably 4-5 days a week after school) will allow students to become calmer, more self-confident, and feel better in general.
However, some concerns have been raised over the size of the fitness center itself. To many, it is just not big enough to hold more than twenty people at once. This is a serious problem if a schedule change were to really happen.
"I don't think in the space that is provided, we can maximize the use of what it already is," said physical education teacher Stephanie Finke. "I would like to see the fitness center made bigger. This could be seen with an extension of the side, or a second level, but I can understand that that is a budget issue." 
According to Finke, during the planning of the new wing of the high school some couple of decades ago, there was a plan to have a second level to the current fitness center. What was above the fitness center, you may ask? A full track on the roof of Kinnelon High School. Budget cuts, just like the ones preventing an extension of the current fitness center currently, are what prevented the building of such a school gym. 
However, who is to say that that plan is too out of reach? Just last year, the bland grass field in front of the high school was donated to and made into a fully decked-out turf field. Perhaps a Go Fund Me, or a donation fund, or something to get the community involved in the production of an extension of the gym would be adequate to get it started,
Countless kids step into the school fitness center, phone in one hand, bottle in the other, ready to push themselves to the limit to find their self-worth. In an age where finding who oneself truly is is an important thing, nothing is better than the school gym. 
When one looks at themself in the mirror, and marvels at the new body that they created for themselves, everything that they went through as a human being to make themself better in any which way would be shown to pay off. 
The gym is just a lousy gym…sure. However, it should be worth mentioning that to some, it is a lifestyle worth chasing. 
Leave a Comment