Qatar 2022: The Last Chance?
As Lionel Messi and Cristiano Ronaldo near the end of their careers, the World Cup in Qatar seems to be their final opportunity to pull off something spectacular.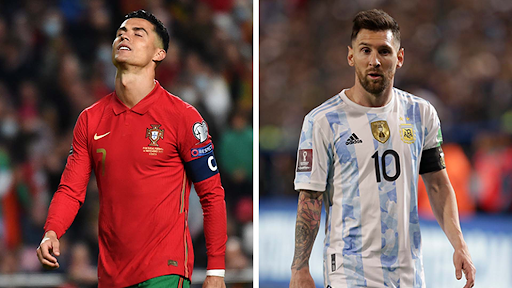 Winning 12 of the last 13 Ballon d'Or awards, Lionel Messi and Cristiano Ronaldo have been, without a doubt, the greatest soccer players of the current generation. In fact, their dominance swiftly prompted the emergence of cult-like fanbases, who constantly butt heads over who the better player is. Though these fans regularly use statistics along with individual and club trophies to support their arguments, there is one accolade that has eluded both Messi and Ronaldo, and could perhaps put an end to the debate: the World Cup. 
Rapidly approaching, the Qatar World Cup, set to begin this Nov., presents one seemingly final opportunity for Messi or Ronaldo to lift the glorious trophy. Already aged 35 and 37 respectively, it seems unlikely that these players will participate in the tournament again, as it is held only once every four years.
"
Rapidly approaching, the Qatar World Cup, set to begin this Nov., presents one seemingly final opportunity for Messi or Ronaldo to lift the glorious trophy."
Their massive fan bases are understandably anxious for the World Cup to begin and hope to see one of the world-class players emerge victorious. Captain of the KHS varsity boys soccer team Christian Cerulo is also a proud Messi fan: "I'd love to see Messi win the World Cup this year, as I believe he's the greatest player of all time. But I'd still be happy to see Ronaldo win it, because you just can't deny how impressive he has also been."
For those who are unfamiliar with the rivalry between Messi and Ronaldo, it is perhaps the most heated in sports history — at least among fans, as the two players maintain an amicable relationship with one another. Considering the tension between these fan bases, it is remarkable to see them unite in support of these players.
Julia Coyne, Captain of the KHS girls varsity soccer team, said, "I think that it is very easy for all soccer players and fans to recognize what Messi and Ronaldo have both done for this sport. Both players deserve to win the World Cup and I think, deep down, everyone knows that."
While many fans may agree with Coyne's statement, there are others who remain stubborn in their fanaticism. Years of ardent support for one player has made it incredibly difficult for some to stomach the possibility of his rival prevailing. For these fans, the World Cup is simply a showdown between the two greats.
However, for others, this World Cup has a more personal touch. Senior and avid soccer fan Joaquin Arguello says, "Because I'm Argentinian, it's difficult to describe how amazing it would be to see Messi win the World Cup. It'd be difficult to see Ronaldo win, as every Argentinian knows that this final World Cup with Messi may be our last chance for a while."
While it would be wonderful to see either of these incredible players obtain the finishing touch to his trophy cabinet, it is entirely possible that neither of them win, just as they have not won previously. However, both Messi and Ronaldo are notorious for shattering expectations, and fans can only hope they rise to the occasion once more this November. 
Leave a Comment