'Grande' Changes Coming to KHS Football
How a new coach is making an impact for KHS football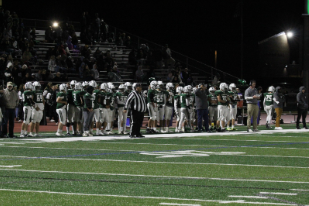 After a 2021 season where the Colts varsity football team finished 2-8, the head coaching reins were given to Dustin Grande. Previous head coach Kevin White, who led the Colts to their only State Sectional Title in 2012, stepped down from the position after a 17-year head coaching career.
Grande has been around the game of football for a while, as he played college football at Lehigh University and also is a co-owner of Pro Edge, a football developmental program. Since becoming head coach, Grande has brought in his position coaches and has energized the determined Colts. Grande's goal as head coach of this team is to change the culture and build a winning program. Also, the team has adopted the motto: "One team, one family." This has brought the team together and has the team focused week in and week out.
"A lot more players have been developed and a lot of us have gotten a lot better due to our new position coaches," said senior Ezra Bardo. "Overall, the team has gotten much better, and we are pretty unrecognizable from the team we were last year." It's clear that the team has developed a lot over the past year, and with the recent coaching change, the sky's the limit for this group.
The team, led by 12 seniors, turned to young freshman quarterback Zach Grande for a new life in this generally run-heavy offense. Senior running back  Liam Parrella, along with junior running backs Justin Tilton and Lex Lucas play pivotal roles on offense.
While on the other side of the ball, senior defensive linemen Anthony Masherelli and Ryan Sullivan, along with junior linebacker Tilton, and junior defensive back Evan Relovsky will have a big impact on defense.
Senior Raed Mesbeh has noticed the change within the program over the past year. "One thing I have noticed this year is that our game style is different from what it has been in the past. Also, our team's attitude to win is different because Coach Grande has a different coaching style than other coaches that we have had in the past. We are a committed team and our goal is to win games," said Mesbeh.       
"Having a different coach means having a different approach to everything. A change of coaches can make a huge difference in a team and has a greater impact than what a lot of people think, whether it is for the better or worse," added Mesbeh.
After winning the season opener against Mahwah 19-12, the Colts dropped the next two games. As they lost to Boonton 40-21 in their second game of the season, then lost a close game to Sussex Tech by a score of 44-34 in their third game. The Colts rebounded in their next game with a 28-7 statement win over North Warren on Senior Night. Wins like these show that it is an exciting time for the Kinnelon football program, as it seems that many steps in the right direction are being made. This has attracted a large number of students to attend the games, as they are all excited to watch their football team.
Leave a Comment