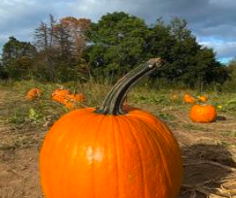 Having trouble coming up with some things to 
do with your friends this fall? Fall is a time full of 
endless seasonal activities to keep one and one's 
friends' time filled! Keep on reading to get some ideas 
on what to do this fall…
Pumpkin Picking
Pumpkin picking is so simple, right? It may be simple, but it is very easily forgotten. Pumpkin picking is a great place to go with friends to have some fun! Pick out some cute pumpkins and then have a pumpkin carving contest at someone's house! Also, it's the perfect place to get some cute fall pictures for Instagram!
Apple Picking
Apple Picking is once again a must-do activity during the Fall. Nothing is more fun than going apple picking with your friends. One idea, is picking out a bunch of apples and then have a fun baking night together with your fresh delicious apples! Nothing screams fall more than eating apple pie while watching a scary movie with friends. 
Hiking
Fall is a beautiful time of the year. The weather isn't too hot, nor is it too cold. The leaves are changing color and the air is crisp, which is the perfect weather for hiking. Put on some hiking shoes and take some friends along! Find a nearby hiking trail and go on a walk and appreciate how beautiful nature really is!
Haunted Houses
Into spooky stuff? Looking for a good scare? A haunted hayride is a great activity that only happens in the Fall to get a good scare from everyone. It's fun, spooky, and perfect to do with friends! 
Go Shopping in a Fall-Themed Town
There's always that one nearby town with a main street that goes all out for Fall… what better way to go there than with friends? Shopping, walking around, and just overall having a good time with friends is unbeatable. Grab a bite to eat and then update that wardrobe! Don't forget to take those Insta pictures too!
Have a Costume Party
Not looking to go out? Want to hang out with friends? A great way to meet these two wants and keep it fall-oriented is to host a costume party! Tell friends to bring some snacks and a costume and have a contest with who has the best costume! 
Fall is a great time to make some memories with friends. There's so much to do with the beautiful weather it has to offer. Take advantage of it! Hopefully, this article added a few activities for you and your friends to do this fall!