Soccer, Basketball, Archery… What's Your Favorite Gym Unit?
KHS students talk about their favorite activities in P.E.
You are a senior in high school, and today was the worst day of your week. You had three tests in a row, a pop quiz, and have a tremendous amount of homework due tomorrow. This dreary week drags on as you walk to your gym class. However, while coming out of the locker room and hearing the gym teacher introduce your favorite unit of all time, the pain of all the stress goes away, and your life returns to being joyful.
KHS has, in total, 18 different types of gym units, including archery, badminton, yoga, and dance. The gym teachers love making their classes more fun and interactive for students. A gym class is essential in a student's life as it helps improve their attitude toward school and allows them to work on their mental and physical health. Gym classes are the only class where students can move around after sitting for an extended time.
"Yes, I think [P.E.] can lift a student's mood, especially with friends. Having friends in gym class is one experience that you will always look back on later in life," said sophomore Tina Xu.
Even though there are many unique units in gym class, every student has one unit that is their all-time favorite. When asked about their favorite gym unit, most students replied with badminton. Badminton helps students be physically and mentally active. According to the Top 15 Health Benefits Of Playing Badminton, badminton is an entertaining, athletic sport that is simple to learn and play with few restrictions. It strengthens your muscles, increases blood flow rate, and has several other advantages. Aside from physical health benefits, practicing badminton also has mental health benefits.
"Honestly, I like badminton because I used to play that with my dad in the summers and got pretty good at it. Plus, it gets you moving, uses a lot of hand-eye coordination while being competitive, and allows every person to play," said sophomore Hope Sirinides.
Gym is essential for some people but only for some. Some students in KHS want P.E. to be optional instead of mandatory. Some students want that part of their schedule to be used for something valuable that they would appreciate more.
"I think P.E. should be replaced with a study hall. Students should be able to choose whether or not to have gym on their schedule. This is because I do not really find it necessary and a study hall would be more beneficial. However, if some students really enjoy gym, they will have that option to keep it," said Junior Ellie Asquith.
It is hard to pick between all the units the school provides, but the weight room is also popular among some students. Students are expected to perform ten exercises utilizing the equipment daily during the weight room unit. Many students like this unit because they can pick whatever activity they like, allowing them to explore the weight room and have fun.
"My favorite unit is the weight room because I feel like we have the most freedom there," said Sophomore Sophia Angermund. 
The instructor puts a lot of effort into including everyone in the lessons. They would provide the students alternatives for the activities they want to play and the people they want to play with since they recognize that not everyone wants to participate or enjoys that unit. Students appreciate gym class more due to the small things the teachers do.
"My favorite unit has to be Badminton because I like racket sports and to be honest with you, I believe that you don't have to be a super athlete," said Physical Education/Health/Driver Education teacher Nino Capra.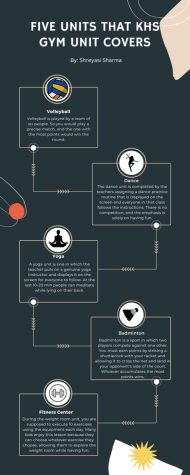 Leave a Comment