Madelyn Kowalsky Commits to University of Texas at Dallas
Kinnelon High School students share their experience of the recruiting process.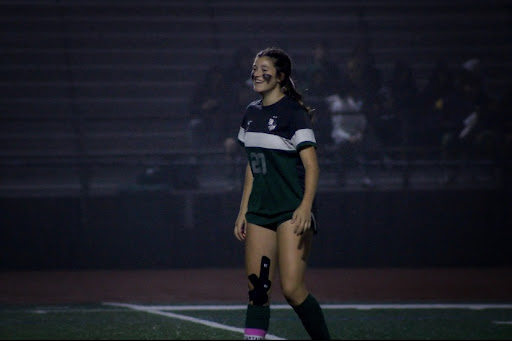 Fourteen years ago, Madelyn Kowalsky stepped into her first soccer practice. She was very nervous but excited to play. Her mother got her into soccer and never expected that it would be such a big part of her life. Her family has supported her throughout her soccer career. Fourteen years later, Kowalsky is now on two soccer teams and is committed to a Division 3 university in Texas. 
Kowalsky is one of few KHS athletes who have already committed to a university in her junior year of high school. She is verbally committed to UTD (the University of Texas at Dallas) and is planning to fully commit sometime before January. 
The college recruiting process is difficult for most students. Athletes have to get in contact with their sports coaches for the possible chance of committing. For Kowalsky, this process began early.
From the start, many colleges were interested in recruiting Kowalsky. She has been playing soccer since she was three, and has always had a passion for it. In the end, she chose to commit to UTD, but it was a long process to get there.  
Many other colleges had offered Kowalsky scholarships like the University of Wisconsin, Vassar College, and Arcadia University. In the end, she chose UTD because: "they have a good Med. program, and their soccer team wins a lot of championships. I also got a full-ride scholarship and thought it would be the best option for me." 
So far this season Kowalsky has had a total of five assists and five points. She said, "Since I'm a Senior this year, I have more of an opportunity to accomplish things." To learn more about Kowalsky's high school soccer career, visit this link.
Kowalsky's journey started when she emailed head coaches of soccer programs that stood out to her. The universities she contacted have earned a plethora of awards, championships, conferences, etc. After receiving responses from said colleges, Kowalsky began to receive recruiting calls. "I sent them my highlights… had multiple recruiting calls… and official visits began soon after," said Kowalsky when describing the process.
Kowalsky plans on being a part of the medical program at UTD. They will provide her with the experience she needs to succeed in her career. 
Even though Kowalskys family and friends are thrilled that she got this opportunity, they will still miss her. "I am so happy for Maddy and am so excited to see her play for UTD but I will miss her because we're going to different colleges," said Stephanie Warnica, Kowalsky's friend. 
Leave a Comment