Nobody Cares about Women's Sports
Women's sports in KHS and around the world receive less recognition than their male counterparts.
Adviser's Note: The views, thoughts, and opinions expressed in this opinion article belong solely to the author and do not reflect the view of The Colt Chronicle Staff, Kinnelon High School, or its students and staff members.
According to Statista, in the 2022 Men's World Cup, the USA soccer team was awarded 6 times the payout of the women's team at a staggering $440 million USD.
Most of the time, this doesn't have to do with winning. The USA team reached the 13th national ranking in the world cup and was awarded hundreds of millions. However, the women's USA team has won first place multiple times and was only awarded $69 million USD. 
Though the men's national team produced more revenue for the 2022 World Cup, according to Sports Illustrated, the money will be combined with the revenue of the Women's world cup and the teams will receive equal compensation. These benefits were also extended to the Olympics, retirement, and child care. The USWNT signed the agreement in May 2022 and it'll be in effect through 2028. Though the soccer teams will now receive equal pay, the women's team was still awarded millions less for their efforts.
In high school, football games act as social gatherings, and people from all over town will come and watch. As sophomore Amelie Swiatek explained, "I feel like there are a bunch of things in high school that [are] traditional that a lot of people do to get involved, and I feel like football games are a big part of that." Football games have become synonymous with high school culture. However, the same support is not afforded to all women's sports games.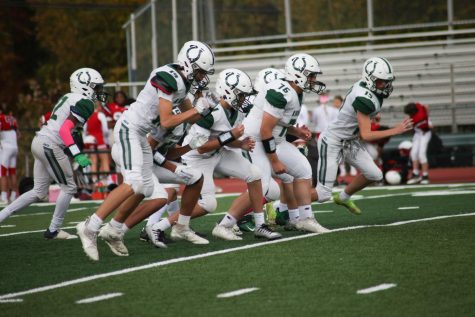 Football is one of the most popular sports in the US, with many famous athletes playing in the NFL. However, women football players often don't share the same fame, professionally, and in local high schools and colleges. Women typically don't play football in their schools, and those that do are met with opposition.
While there are probably many girls who'd be interested in playing football for the high school team, they could feel uncomfortable or unprepared to be singled out on a team with very few or no girls. As long as schools don't encourage girls to participate, they may never discover an interest they may have had, and high school football will remain a male-dominated sport.
In the professional sports industry, athletes who've risen to celebrity status are often men, and are more recognized and discussed in their respective sports. Take Shaq, Jordan, Messi, Ronaldo, Neymar, Manning, Brady; they're huge names in the sports industry and have gone on to build their own individual brands as entrepreneurs. However, most female athletes are only known by certain groups, and not nearly as many women enjoy the prominence these male athletes have achieved outside of their sport.
This can be because social media tends to ignore or belittle the achievements of women's sports. Female athletes aren't idolized or admired the way male athletes are. With statements saying women's sports are 'unappealing' or 'boring,' many posts on social media and even many articles don't believe women's sports of any kind hold the same entertainment value that men's sports do.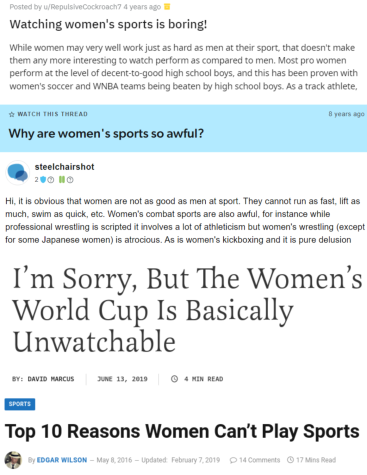 Also, professional women's teams and female athletes aren't broadcasted on cable TV or advertised for online streaming as much as their male counterparts. The graph shows that women's sports get an average of 5% of televised, online newsletters, and social media coverage. Compared with the average of 89.3% for men, the difference is drastic.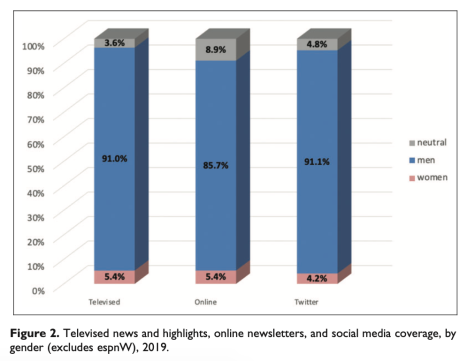 Since 2019, there have only been a few female athletes who've broken into the mainstream. Certain athletes like Simone Biles and Serena Williams dominate their professions but their careers dwarf in comparison to some of the biggest names in sports.
To pursue their passions, some female athletes at KHS have to join all boy's sports teams when a girl's team isn't available. But playing as the only girl on an all boy's team has its own struggles. Junior Julia Driscoll has often played on the boy's ice hockey team and has also been on the girl's lacrosse team since she was little. "Some positives are I get the whole locker room to myself […] even with the free locker room, it is a little bit lonely. When you're getting ready for the girl's lacrosse team… you are socializing as you're getting ready […] with hockey it's very sterile with relationships," Driscoll says. 
While in the professional setting, many athletes only care about performance and scores, whereas high schoolers can try many different things. Socializing and making friends is good motivation when on a team, and being an outcast can take away the enjoyment you get in playing.
Throughout history, physical strength has been the largest reason behind gender discrimination and the rigid gender roles in our society. In the current day, there is nowhere more prevalent than in professional sports. Companies need to make strides to bring women athletes into the spotlight. By advertising women's sports events like the Women's World Cup and extending the equal pay agreement to all sports rather than just soccer, female athletes will have the opportunity to make more money and become better known to viewers. Only then will the public realize the importance and value of women's professional sports.
Leave a Comment