A24's "Sharper," which began streaming on Apple TV+ is a suspenseful grifter drama featuring a con artist and his plan to take on a Manhattan billionaire. The film follows an array of different characters and their perspectives as the story unfolds. However, many writing choices don't leave the film feeling memorable or significant.
The story begins with Tom (Justice Smith), a young bookstore owner who meets a young woman named Sandra (Briana Middleton) who enters Tom's shop. The pair have instant chemistry, and viewers watch their relationship blossom over a few weeks. However, trouble starts to brew for the couple when Sandra reveals she has a brother who's in trouble. He needs some cash and a lot of it. Tom agrees to get funds from his incredibly wealthy father, Richard (John Lithgow). When Tom goes to look for her, Sandra has disappeared with the money.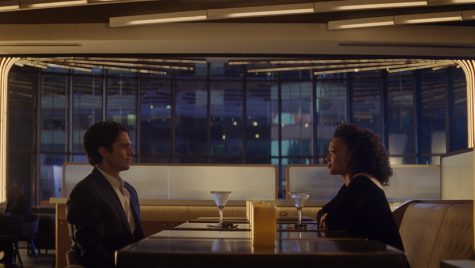 However, this is just the beginning, and we get to see the selling point of the movie shine. The tone of the movie immediately shifts to the perspective of Sandra in the past, revealing a drug-addicted convict on parole in place of the lively woman we'd gotten to know. This second vignette reveals how 'Sandy' became Sandra working under con artist Max (Sebastian Stan) alongside Madeline (Julianne Moore) and their plan to manipulate Tom and get to Richard.
The movie goes through the perspectives of all the key players as the story twists and turns to every new con and scheme. Everyone has their own motive, and nobody is who they say they are.
While the movie's style is meant to mimic the many other films in the genre, it leaves much to be desired in terms of its writing. Practically none of the characters have any character development or backstory. It's never mentioned why Max or Madeline became con artists, why Tom hates his father, or what happened in Sandra's past. It's only mentioned in throwaway lines or snippets of dialogue. Every character plays the role they're meant to play, which can make the characters seem stagnant and one-dimensional.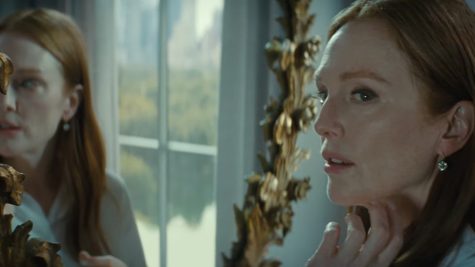 The movie is also over-polished for the genre it's meant to be. Every con and twist is executed perfectly, and it all runs smoothly. Viewers rarely or at all feel tension or anxiety about a character's situation, and there's never any real threat. The absence of good rising action or a strong climax didn't raise the stakes for any of the characters and made the story feel very lackluster by the end.
With a talented cast like this, vignette formatting, and the crafty tone of the film, a movie like this could've done much more with the right choices.