Adviser's Note: The views, thoughts, and opinions expressed in this opinion article belong solely to the author and do not reflect the view of The Colt Chronicle Staff, Kinnelon High School, or its students and staff members.
'Turn your words into AI images!' the ad says. You've already seen tons of pop-ups from AI apps while scrolling social media and a new trend with an AI filter has filled your Tiktok "For You" page. It might seem harmless now, but this won't stay just a trend for long. The introduction of machine learning into the mainstream has evolved AI more than ever before, and it'll only grow from here.
Many AI image-generation apps have gained popularity throughout 2022 and into this year, especially ChatGPT, DALL-E-2, and Midjourney. All AI programs have relatively the same function: by typing in a few keywords, the software will comb through the internet for images similar to your search and mix them together. As long as something is on the internet, and it probably is, then AI can use it for its software.
It's been decades since machine learning was created, so why now has it gained so much popularity? As junior Madison Bsales says, "I think just 'cause it's a new technology but it's also a lot of ways for people to use work that's not theirs. Since there's no copyright… and whatever you put in the AI can come out to whatever you want it to be, it's all… original. It's random work people can use as their own." You don't have to sit and draw something for hours or hire someone else to make it for you. Instead, simply clicking a button or typing out a few words can create an elaborate image. If you don't like the image it created, in a few more short clicks you can generate another.
With such a versatile program, there are hundreds of uses, which can be both impressive and terrifying. As English teacher John Penola says, "My older brother… he wants to write a comic book, and he's also a young father, and he doesn't have time to do all this stuff anymore… he doesn't have to sit down and draw for hours and hours, which he'd love to do, but he can't, and now he can take those and give them to somebody else." This is why the ethical problem of AI can be a gray area. It can be used by many to save time, work more efficiently, or showcase new technology.
However, since machine learning uses hundreds of images from all parts of the internet, 'AI art' has led to much controversy in the art community on social media. "From the visual artist standpoint, where the only reason that the AI can create these authentic-looking sketches, or oil paintings, or pictures, is because it's being fed art by people who have created it. So theoretically these artists are not getting credit, they're not getting paid for the work these machines can now do," Penola explains. Recently freelance artists have begun to lose work and AI art has won contests among human artists. As more and more people continue to use it, AI will become a persistent problem in online art spaces.
AI images have circulated around the internet for other reasons as well. Like dating rumors of celebrities, the Pope wearing a puffer jacket, or Trump running from the police. All of these examples were made with AI, but they created a huge commotion on the internet and many believed them to be true.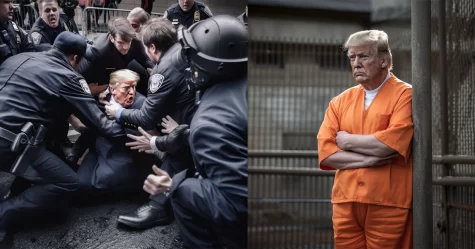 As AI images spread across the internet, better media literacy and research must be encouraged. With the constant scrolling of social media, it's easy to believe things at face value and never take the time to investigate. It was important before, but it'll be necessary now when even photos and videos can be fabricated. The same goes for art as well; artists will have to find more ways to prove their art is real, and they'll need to take more precautions to safeguard their art from being used in AI.
A new app designed as a University of Chicago research project, known as Glaze, lets artists add a cloak layer to their work. This could make it more difficult for text-to-image AI tools to take the work of artists for their software.
Whether or not AI will prove a useful tool for humans or a problem that will affect our daily lives is still in question. But there's no doubt that as technology continues to advance, we won't be able to brush it off as a simple social media trend anymore.