Adviser's Note: The views, thoughts, and opinions expressed in this opinion article belong solely to the author and do not reflect the view of The Colt Chronicle Staff, Kinnelon High School, or its students and staff members. 
As the new school year kicked off, students and faculty alike were informed that they would have to adapt to newly implemented security measures and technology guidelines. These changes were intended to bolster security by allowing staff to quickly identify students who enter the school and monitor their online activity during class. However, while these policies have had some security benefits, many students do not agree with them. 
The first major change involved identification. Lanyards are now required to be worn every day at all times for students, undoubtedly increasing security within the school. This form of security is present in other districts, yet is only a recent addition to KHS. District School Safety Specialist Vincent Shivas said, "It is an easy way for teachers to identify students inside the school quickly."  
Aside from easy identification, the lanyards also serve other purposes. Superintendent of Kinnelon Public Schools David Mango says, "They are used to check in and out of lunch; later on they can be used to monitor bathroom usage, losing some duties for staff members."
Some students find the lanyards to be an inconvenience. Freshman John Sprague says, "They are so annoying because you have to remember them every time; some days I forget it."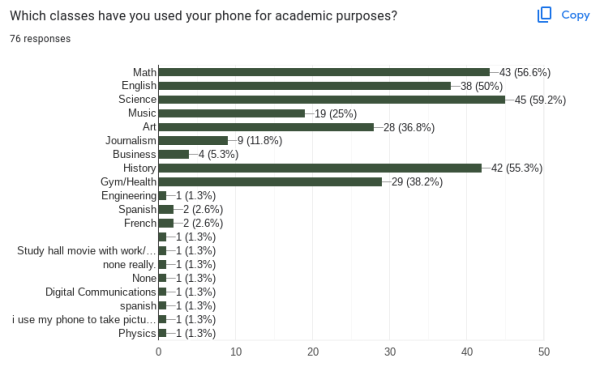 Many teachers and staff recognize students when they see them in the building, causing some students to see the lanyards as impractical. Freshman K.C. Klein says, "If you are going to the school, they should know you're in the school."   
Student Resource Officer Steve Caputo says, "I understand the apprehension, but I am glad to see that most kids are in compliance. I recognize the faces, but I think it's important for every student to wear it, it's like taking your shoes off at the airport."
While it may be bothersome to put it on each morning, lanyards are important in the event of an emergency. Mango says, "There was a tragedy on the highway involving a school district that was near my previous district, and I had school buses out on a class trip. It was not my district in the end, but some of the fallout in the information that was communicated to my law enforcement was identification after the accident." While this is an extreme case, Mango states that it does not have to be a school shooting or evacuation for a bomb threat that prompts the need for identification; it can simply be what occurred in that district. 
Another ongoing concern to students is the technology crackdown. This security measure blocked the Wi-Fi connection on their devices, as well as instituted a ban on the usage of personal computers. The former is not uncommon for high schools; according to U.S. News and World Report, by 2020, 77 percent of schools reported prohibiting cell phones for non-academic use. 
The decision to ban personal computers was made by the Kinnelon Board of Education. District Supervisor of Mathematics Amanda Trombetta said, "We were unable to manage the applications that we purchased such as GoGuardian because students were bringing different devices." With the newly imposed uniformity of Chromebook usage, these applications became much more effective.
Online safety is another important aspect to computer usage. Principal Gary Suda says, "We wanted to make sure our filters can work to keep out any kind of cyber dangers."
According to the Pew Research Center, virtually all teachers surveyed report working in a school that employs internet filters (97 percent). One reason for this is to have increased focus in the classroom. Trombetta said,
"Having everyone on the same network and the same types of devices allows us to promote student focus in the classroom."  
— Trombetta
Parents have also been concerned with the connection between themselves and their children. Suda says, "I have received feedback from parents who are also struggling with the lack of connectivity because they have had access over the past seven years to be able to text and have contact. I am reassuring parents that they'll always have access to their child in emergency situations."
Prior to COVID-19, digital assignments were not as common, but things are different now. Digital Communications teacher Casey Dewaal says, "It changed through the pandemic. When phones are used for educational purposes or resources, generally they are used for speed and efficiency or as a bridge between outside of school and inside of school filming."
Cell phones can often be beneficial in an academic setting, but they also create a distraction for students. Dewaal says, "I will never be able to compete with the distractions that a phone brings." 
While students are unable to connect to the internet on their personal devices due to the Chromebook policy, the board has recognized that they should have Wi-Fi at certain times of the day.  "This did impact cell phones, so we created an afterschool network as well as a lunch network for students," says Trombetta. This allows for students to be able to contact home during the day, which was a main concern among students.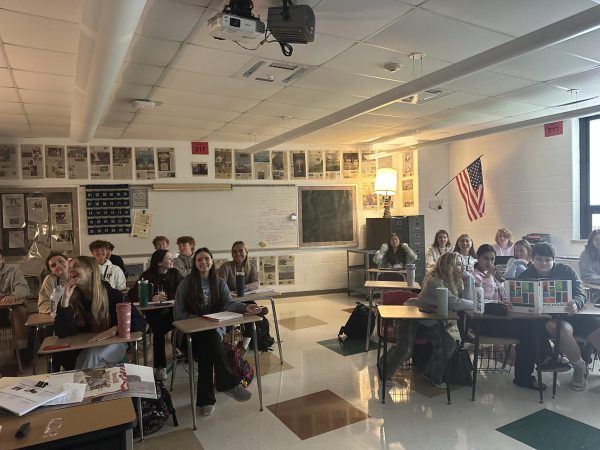 The situation regarding security changes is still developing, as the district faces new challenges that arise every week. Changes are still being implemented, and compromises are being made to allow for flexibility amid security crackdowns. As the situation continues to evolve, it is important to remember that despite the inconveniences they cause, these measures are intended to make the school more secure. Perhaps the coming months will see further compromises made to restore the flexibility many students and teachers fear has been brushed aside.