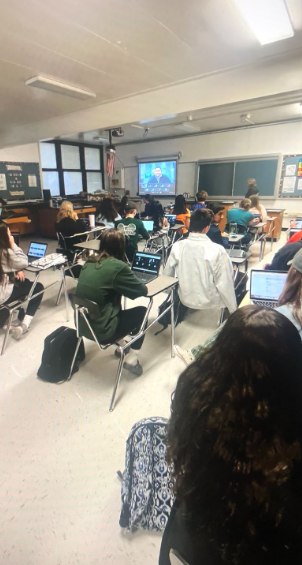 As a high school student, finding opportunities to impress your dream college can be challenging. With limited spots, it's hard to distinguish yourself from others while applying to colleges. However, one way to stand out is by joining academic honor societies. 
Honor Society allows many juniors and seniors to gain scholarships, service hours, and leadership skills. It is an organization that brings academically proficient students together based on their GPA, class rank, or any standardized test scoring. There are various honor societies, including math, language, English, art, science, and even the National Honor Society. 
Before joining any honor society, students must meet all the requirements and fill out applications requiring a recommendation letter. For example, in the Science Honor Society, students must be in 11 or 12 grade, previously enrolled in honors or AP-level classes, have a 3.5 weighted and 3.0 unweighted GPA, and have no prior behavior violations. These requirements count for many other honor societies as well.
"You have to keep up your science grades and have no academic display issues, which are the big ones. If you follow these rules, it's not hard to get into these societies," said science department chair Dr. Wendy Bruffy.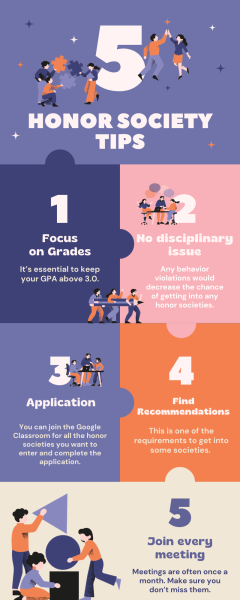 Students have several opportunities to gain essential skills that they may apply in the future. After they enter the society, they are expected to attend meetings once a month. The organization lets students serve the community through events like a Thanksgiving fun drive or collecting toys for children in need. 
"There isn't much workload, it's more about doing things for the community and helping others. It's not school work but more about serving the community," said senior Sophie Pogodin. 
Being a part of these honor societies can also help students boost their resumes for college since, between juniors and seniors, there are only 40 to 45 members in the school. Students don't have to do the organization to get into a good college, but it can add to their benefits if they are. Having these societies on a student's resume would show they care about their learning and want to take the next step. It can show their involvement with the community, which is even better if they are in an office position. To get an officer position, a student must speak and convince others to vote for them.
To stay a member, you must strive for these four good example qualities: character, leadership, service, and scholarship. If there are any disciplinary issues, a student would either be removed from the club or get a warning letter, depending on the severity of the incident. The same result would occur if their grade dropped below a 3.5 GPA, but the organization would give them time to improve. Students will also be removed from certain societies if they drop any particular class; for example, if they are in the science honor society but don't take science throughout their junior or senior year, they will be dismissed.
Being in an honor society is manageable for many students since it doesn't involve schoolwork. The requirements for them are also reasonable and practicable. Thus, joining the organizations would primarily benefit the student. 
"Yes, it's a society where its mostly students getting rewarded for having good education and keeping their grades up," said Dr. Bruffy.