World Space Week: Day 2 – TRAPPIST-1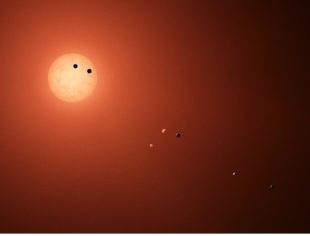 Life beyond our world has always been a controversial topic, with the lack of information regarding space, life, and the conditions in which living organisms can form, mainly because there are more than one heptillion observable planets in our Universe.
The chances of life somewhere out there in the vast vacuum of space on a little planet similar to Earth is more probable than ever thought before, especially with the discovery of TRAPPIST-1, a planetary system located within the constellation of Aquarius. Discovered by TRAPPIST (the TRAnsiting Planets and PlanetesImals Small Telescope), the solar system houses at least seven planets, all with similar builds and characteristics to Earth. However, what truly makes TRAPPIST-1 so important is that the known planets that inhabit the solar system are considered the most optimal for life out of all other planets that have been discovered.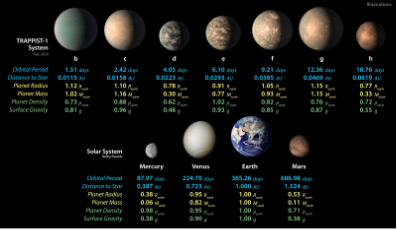 Scientists working on uncovering the secrets of the solar system determined that the planets' sizes ranged from Earth-sized to as big as Venus, and from finding out at which time the planets transit (pass in front) of their star, scientists were able to ascertain the planets' masses, leading to knowing their densities, and thus, the components that make up the planets. The scientists found that the planets are consistent with a rocky composition.
The amount of light that a planet receives is the most crucial component in determining if life on a planet develops. On Earth, the Sun is responsible for warming seas, generating weather patterns, provides energy to organisms, and more, which is why when researchers and astronomers discovered that the planets of TRAPPIST-1 receive amounts of light similar to the planets from Mercury to Mars.
While all the planets are relatively similar to our own, right now, only three of the seven known planets are considered in the habitable zone (a region in a solar system where conditions would be ideal for the existence of large quantities of liquid water, and thus, possibly life), with the other planets either being too close to their star, TRAPPIST-1A, or too far away.
TRAPPIST-1 allows scientists, for the first time, to remotely study the climates of terrestrial worlds beyond our solar system. With the perfect proportion of life-bearing qualities, TRAPPIST-1 is providing humanity with the first chances of discovering life beyond Earth.
As for now, researchers are eagerly waiting for the launch of the James Webb Space Telescope, which will collect additional data on the planets, including atmospheres, potential water richness, potential oceans, and possibly, a detection of life.
For more information on TRAPPIST-1, visit: http://www.trappist.one/#
Leave a Comment