World Space Week: Day 7 – Voids and Supervoids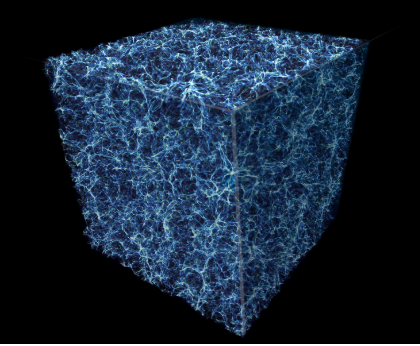 Imagine nothing.
If you thought of a void or supervoid in space, then you're pretty close to being right.
Cosmic voids are vast spaces between galaxy filaments (the largest known structures in the Universe) that usually either contain a few galaxies or none at all. Voids that lack superclusters (a large group of smaller galaxy clusters) are known as supervoids.
One such supervoid is the KBC Void, an immense region of space that houses the Milky Way, our galaxy. The void, being roughly spherical in shape and approximately two billion light-years in diameter, is considered the largest cosmic void ever found.
The KBC void has helped many scientists with explaining the discrepancy between measurements of the Hubble constant to cosmic microwave background radiation.
The next biggest cosmic void is the Giant Void (or Canes Venatici Supervoid), coming in 1.3 billion light-years in diameter and located in the Canes Venatici constellation. Inside the void, 17 galaxy clusters are present, however, studies show that the clusters show no interaction with one another, resulting in weak gravitational interaction.
From Copernican Heliocentrism to the creation of our solar system to voids and supervoids, World Space Week 2018 has truly been what they wanted it to be: "space uniting the world."
Leave a Comment