As the second semester kicks off and the longest, most difficult marking period begins, students' attention is once again shifted to the future, this time to their next year in high school. Everywhere you go, you can hear the chatter of students discussing which classes they plan to take next, and what new challenging curriculums they want to take on. Beginning with that fateful colored sheet of options, the process of scheduling is a long road filled with twists and turns, but it's one of the most crucial lynchpins of our high school experience, providing us the freedom to choose what we learn.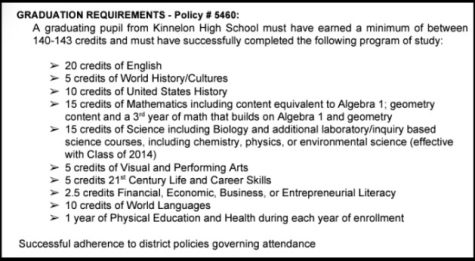 All of this raises the question: How does it all work? How do 3 overworked counselors and a relatively basic computer program somehow sort 4 classes containing over 500 students into hundreds of unique classes in just a few short months? Well, it all starts with you; the student. In this article, I've attempted to prepare a detailed guide on how to not just survive the scheduling process, but forge a path that will challenge you, but also keep you sane and enjoying all the interesting courses KHS has to offer.
Fun Fact: A rising senior at KHS has more than 80 electives to choose from!
The first step in the process is to meet with your counselor, who will be your lifeline and guide you throughout the process of planning your schedule. Remember to plan ahead of time and be prepared to go quickly, these appointments are very brief since the counselors have many students to meet with every day. According to Guidance Counselor Marlene Goudreau, "on average you're probably looking at maybe 10 students a day, averaging out to about 50 a week." It's very important to be appreciative of the hard work your counselors put in since this is just one of their many roles at KHS. During your meeting with your counselor, you will discuss the electives you are interested in, as well as how rigorous your course load will be based on your chosen classes. They may offer you advice, and you are encouraged to ask questions if you have them! 
When you are getting ready for your appointment (or you have already had your appointment, but you would like to find out more about what courses teach what) you should familiarize yourself with the KHS program of studies, which contains the course descriptions for every class the school offers. Found on the school website as well as linked below, this document contains everything from graduation requirements to recommendations on what classes to take all in one convenient place!
Sadly, one frustrating bump in the long road of scheduling is that your schedule will almost never work out the way you want it to on the first attempt. When I asked how often a schedule fits on the first try, I was answered by a laugh followed by "maybe 2 out of 10, it's not a great average so we have to do a lot of finagling to make it all work for Move-Up Day". You're going to have to revise your schedule multiple times, especially if the classes you choose are less popular and have fewer available blocks when they are being taught. The best way to prepare for this is to have some alternative plans for courses you want to take, as well as go in with an open mind and flexibility. It doesn't all have to get done in your first appointment!
Finally, you have to remember that you have a vast network of people who can help you through the process. Make sure to talk to some upperclassmen who have taken the classes you are interested in pursuing, so you can get some firsthand experience! And don't hesitate to reach out to your counselor or stop in sometime if you have any questions. As Marlene put it in her advice to first-timers, "Your counselors are here to help you, we meet with you each year to do scheduling and make sure you're on track for graduation… It might not always shake out the first time but we work very hard to try to give everybody most of what they want." On behalf of the counseling department and all the teachers who look forward to having you; good luck with your schedules! 
The Program of Studies contains all the information you will need to guide you through this complex process, and the course descriptions begin on Page 32. KHS Program of Studies.