Kinnelon can't hold on to big lead, falls to Boonton 55-59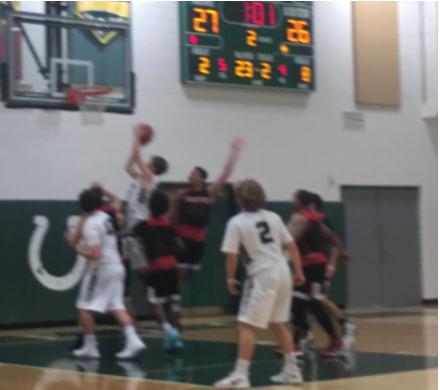 Hang on for a minute...we're trying to find some more stories you might like.
Despite holding a 48-38 advantage at the start of the fourth quarter, the Colts ultimately lost against Boonton on Jan. 16, due, in part, to some missed free throws.
Senior Dylan Cathcart (pictured with ball) finished the game with 16 points, with six made field goals and 4/6 shooting from the charity stripe.
Junior Bobby Lewit also had a nice 13 points coming from a couple of three-pointers and three other baskets. He also tagged a free throw after completing an and-one.
Kinnelon's defense looked very stout in the first quarter. They trapped and doubled very effectively. This led to an early lead of five points, which was helped by Boonton missing numerous freebie layups.
By halftime, Kinnelon had the lead up to seven, even though Boonton was shooting lights-out from three. By the start of the fourth quarter, Kinnelon was up by 10. However, they proceeded to be outscored 21-7 in the final frame.