World In Progress
Has our country failed to protect its citizens regardless of "race, color, gender, and ethnicity"?
Adviser's Note: The views, thoughts, and opinions expressed in this opinion article belong solely to the author and do not reflect the view of The Colt Chronicle Staff, Kinnelon High School, or its students and staff members.
2020 is the year for both destruction and success. It has shown the true colors of humanity. As we are trapped in our houses, we have finally come to terms with true reality and the sufferings of the minority; this shows we have to be at our low to think about others. This is a lesson for the world… for America… people are still suffering, people are still facing discrimination because of their "race, color, gender, and ethnicity."
Like me, many high school athletes have heard these words ("race, color, gender, and ethnicity") at the beginning of each match, but we have really never thought about how much these words can mean to a person. As an immigrant, the first time I heard these words, hope rushed through my body and I realized "America really is great." However, not long after did I realize that these words only applied during a match, from when the clock started to when the clock ended.
During this pandemic, I have realized the truth of humanity, like many of you. I have seen posts from my generation, supporting the actions of the racist, but I have also seen posts from many who have changed their mind and supported what is humanly right. Seeing the protests, the Supreme Court cases, the behavior of those during this pandemic, and the news overall have made me realize this world still has room for improvement, just like many of us.
Black Lives Matter Protests
Ahmad Arbery 
Ahmad Arbery was not the first of many cases of racism in America; it was the first to guide us toward the predominating the Black Lives Movement. Aubrey was a 25-year-old man jogging in his neighborhood in Brunswick, Ga. when his neighbors, a 64-year-old father (George McMichael) and 34-year-old son (Travis McMichael), confronted him and demanded him to stop. He ignored them and ran on. The father and son responded by driving their truck into his path of jogging and confronted him with a gun. Arbery was found dead and with evidence of being shot multiple times. A video was released showing the McMicheals were responsible for his murder. The McMicheals excuse their behaviour because they thought he was a burglar and decided to take matters into their hands, as George McMicheal was found to be an ex-detective.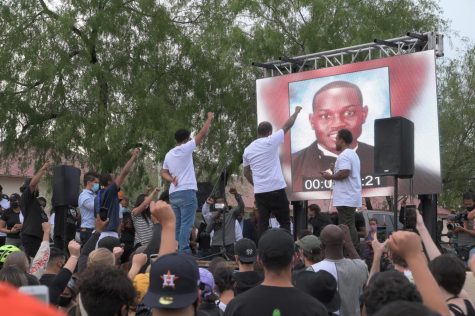 Arbery was also found with criminal records, including being a first offender on charges of carrying a weapon on campus, as well as several counts of obstructing a law enforcement officer, all of which led to Arbery being sentenced to five years probation. However, these criminal charges don't justify him being shot to death.
On May 7, justice was served to the Arbery family for the murder of their son/brother. The McMicheals were charged with murder after multiple online protests and light being bought to the issue by both the general public and famous stars.
Breonna Taylor 
Unfortunately, that wasn't the end of police brutality and the loss of black lives in 2020; that was just the beginning. Next was Breonna Taylor, who was shot when the police raided her apartment in March due to "suspicious drug activity." When the police raided the apartment, Taylor's boyfriend shot gunfire in the air to scare away who he thought were "burglars." The police then fired back, leading to Taylor's death. Taylor's boyfriend also ended up shooting and injuring a police officer during the exchange of rounds. Protesters are urging action and accountability to be taken by the police officers that shot Taylor, as further investigation is taking place.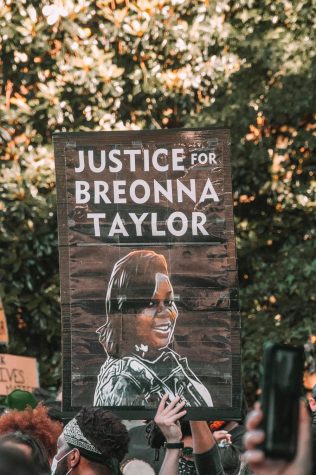 Investigators looked into the profile of Taylor and her boyfriend, and they were unable to find any history of violence, drugs, or other crimes. Along with no records of violence, Taylor was also an EMT in Louisville, and therefore, an essential worker who played a large role in saving lives.
In an NPR podcast, Amina Elahi states the action and changes resulting from Taylor's death: "KING: So, ultimately, has anything changed after this young woman's death in Louisville? ELAHI: There have been some policy changes in Louisville. For example, no-knock warrants were banned in the city last month, and that's something that lawmakers are considering at the state level as well. Also, one of the officers involved in this shooting, Brett Hankison, was fired, although he's appealing that firing. And the others are still on paid leave. So the answer is really yes and no."
George Floyd 
Taylor and Arbery's death were heard and discussed in the states; however, George Floyd's death marked the beginning of nationwide protests that occurred during the quarantine.
George Floyd was a 46-year-old African American man who was killed in Minneapolis, Minn., during his arrest for allegedly using a counterfeit bill. Floyd was a father of five, he was the grandfather of two, he was a brother, a son, a friend, and most importantly a human.
George Floyd died on May 25, after being held down by Derek Chauvin, a Minneapolis police officer. As people walked by and saw the scene, they saw Floyd was struggling to breathe, one of them even took out their camera to record the scene, in which you can hear Floyd saying, "I can't breathe… Please stop." He even calls out for his mother.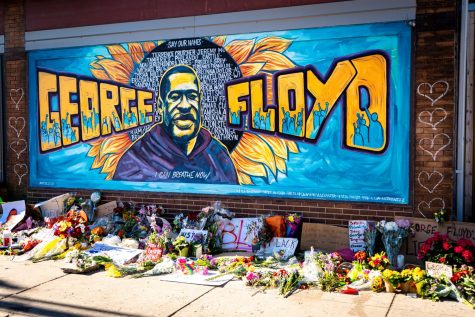 Floyd had just relocated to Minnesota and had begun a truck-driving course to lead him to a better career. Many of his friends and family reported that he was looking to be a better father, and was looking for a fresh start.
After Floyd's death, rioters and protesters took the street. The Floyd family thanked the protesters for their support in many of their television interviews, but they also asked for Floyd's death to not be an open door for riots and violence.
In a video recorded by Guardian News of Floyd's memorial, Floyd's brother is heard saying, "If I'm not over here blowing up stuff, if I'm not over here messing up my community, because that's not gonna bring my brother back at all it may feel good for the moment…But let's do it another way let's stop thinking that our voice doesn't matter everybody educate yourself, don't pay for somebody else to tell you who's who, educate yourself we know who you're voting for and that's how we gonna hit them…"
On June 3, it was reported that changes were made in the charges. Chauvin and the other present police officers faced Floyd's death, after much effort from his family and friends for justice, and help from protesters and petitions. Now, Derek Chauvin's charge has been elevated to second-degree murder, and the other three police officers present in the moment, that previously faced no chargers, now face counts of aiding and abetting murder.
The President's Response 
Throughout the fight for BLM, the President commented on the protests.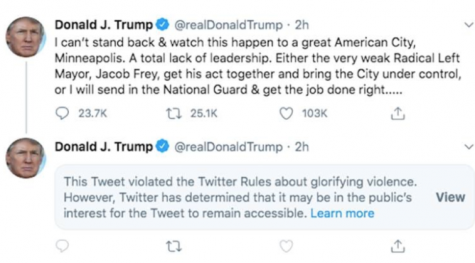 After tweeting he spoke on the issue at the White House and stated he was releasing the National Guard to protect the streets and control the protests and riots. Trump faced a lot of threats and danger as angry protesters arrived outside the White House. Eventually, he was placed in the White House bunker for his protection.
Trump was also flagged by Twitter, and they decided to start fact-checking Trump's tweets due to his recent inappropriate behavior on social media. Trump responded by signing an executive order on social media for "free speech."
Response and Action
In response to the recent events, many began to hold historic figures and leaders accountable for their racist actions. People and corporations began purposely destructing and taking down public monuments of now "unaccepted" historical figures.
What can you do to participate? You do not have to go to protests, although, that is an option. Protests are to show your support and are only short term; however, education is long term. You can educate yourself by reflecting on your actions, sign petitions, give donations, post credible information, educate others, and read books regarding African American oppression.
LGBTQ+ Supreme Court Case
Aimee Stephens, a 59-year-old was fired from her job at R.G. and G.R. Harris Funeral Homes in Detroit Michigan because of a letter to her boss regarding her decision to live as a woman and no longer a man. She assured him she would appear with the right attire to work once she returned. She also explained her reasons for this decision and issued her changed legal name that she wanted to be called. However, two weeks after she sent the letter, the boss replied with her letter of resignation.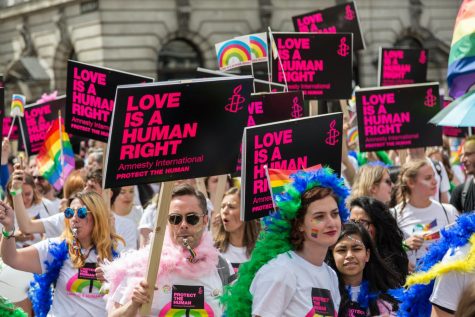 Aimee Stephens started her journey to fight for LGBTQ employment rights in 2013 after she got fired. On Nov. 30, 2018, the Supreme Court decided to take Stephens' case, along with a gay couple's case, who were fired from their jobs after announcing their marriage.
On June 15, Justice Neil Gorsuch wrote the 6-3 opinion and announced the victory of the LGBTQ+ community, marking a landmark Supreme Court case ruling. In the court case, Gorsuch ruled that the word "sex," under Title VII of the Civil Rights Act , not only included men and women but also the LGBTQ+ community. The ruling provided protection for millions of LGBTQ+ employees nationwide. This marked a day of celebration for Aimee Stephens, Scott Phillips-Gartner and his husband, and the entire LGBTQ+ community.
However, Stephens did not live to see that day. Unfortunately, she passed away on May 12, leaving a legacy behind to her community and for everyone around the nation.
DACA & Foreign College Students Issue (ICE)
One of the most recent issues in the news is the Trump Administration's continuing actions against immigrants amidst the COVID-19 pandemic; first the wall, then the deporting, and just recently, DACA and ICE.
On Sept. 5, 2017, Trump had announced his order to end the Deferred Action for Childhood Arrivals (DACA) policy. This policy was placed by the former president of the United States, Barack Obama, to protect Dreamers – individuals who were brought illegally to the States when they were children- from being deported and allow them to have a renewable work permit for two years.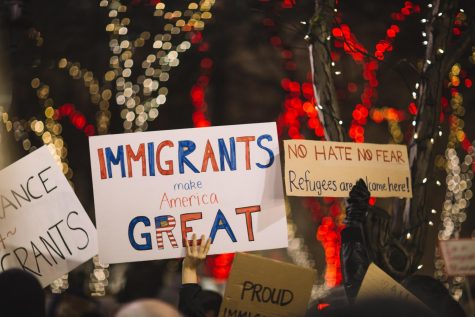 On June 28, 2019, the U.S. Supreme Court agreed to review these legal challenges. They said they would have their decision no later than June 2020. However, the Trump Administration failed to end the DACA program, as the Supreme Court ruled in favor of it.
And yet, this was not the end of Trump's attacks on the immigrant community in 2020. Next was the foreign college students. The Trump administration declared that they would strip international college students of their visa if they did not return to their campus by the beginning of their college Fall semester.
Again, the Trump administration was unable to follow through and rescinded from the policy to strip their visas if they decided to study online. Trump faced severe backlash from students, companies, and the universities themselves.