Devon Diamante's Take on Kinnelon Soccer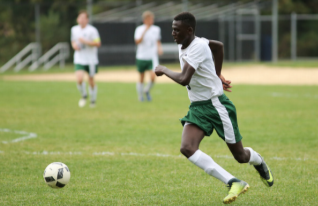 Hang on for a minute...we're trying to find some more stories you might like.
Devon Diamante is a sophomore on Kinnelon varsity soccer squad. Despite not playing any competitive soccer in the past year, speedy left winger Devon Diamante has worked his way onto the varsity soccer team. Playing as an underclassman on any varsity squad is no small feat, and brings many challenges.
There is a popular stereotype that underclassmen are typically "bullied" when surrounded by juniors and seniors. Devon says, " We want to win, and that shows how the team has a mentality and culture of wanting to win." This universal desire for success clearly unites the team despite any class divides. It also makes soccer a fun and enjoyable sport when surrounded by teammates who have a common goal of being successful.
He also commented on his coach Mr. Stokes. " [Mr. Stokes] is…serious, funny, and inspiring when he needs to be." Life on the soccer team is better when the coach is relatable and makes the team about more than just soccer. Devon thinks that the team will bond well and end with "more wins than we have now (zero)."
For more on the Kinnelon soccer team visit http://highschoolsports.nj.com/school/kinnelon-kinnelon/boyssoccer/ and watch their next home game against Pequannock at P.R.M at 4:00